What a fabulous evening in Taree!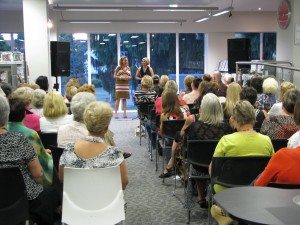 I know that country  Australia has a well deserved reputation for its warm welcome, but Taree outdid itself last night.
Thanks to Shelleyrae (of Book'd Out fame) and Danielle, Margie and Cheryl from Greater Taree Library for organising the evening.  Nikki from Manning Valley Books provided a lovely display of our books and was a wonderful dinner companion.  As always, Lisa Heidke was so very entertaining and the audience laughed in all the right places.
Brenda, a moderator and librarian on the Goodreads site made the drive from Newcastle and it was lovely to meet her in person. Thanks also to Kerri Williams for coming along and bringing her daughter – always lovely to see a familiar face in the crowd.
Finally, a huge thank you to all the fantastic readers who came along and made us both so very welcome 🙂 What more could we ask for?