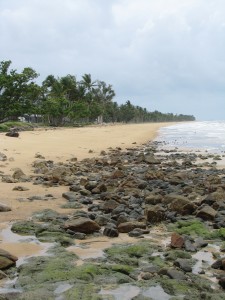 Mission Beach will always be special for me and this weekend added more great memories.
GW and I headed south out of Cairns on Friday night so I could conduct a writing course on behalf of the Queensland Writers Centre on Saturday.
The brand new Mission Beach Community Arts Centre hosted the day in their wonderful space. A big thank you to Peter who helped GW and myself set up the room. Sadly I couldn't convince my brand new laptop to talk to their brand new data projector, but my old faithful macbook air was much more sociable so I was ready to go by 9.30 when the writers arrived.
The Mission Beach Arts Centre is a series of pods and we were in the central one in what's essentially an open air room. I felt as though we were writing in the rainforest which added a wonderful earthy feel to the day. (Thankfully the rain did let up by mid-morning, but you can see the drops in the photos.)
Mission Beach has a vibrant visual arts community and it seems there are plenty of talented writers there as well. I enjoyed having writers who shared so generously, who offered opinions and gave everything a go.  As always when I teach I came away  feeling inspired and re-energised.
Thank you, ladies! We'll have to do it again 🙂