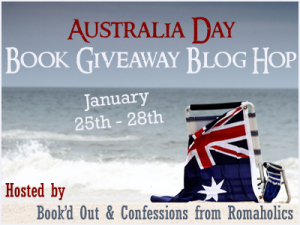 Happy Australia Day! To celebrate our wonderful country a group of writers and bloggers are participating in the Australia Day Book Giveaway Blog Hop.
Thanks to Shelleyrae from Book'd Out and the crew at Confessions from Romaholics who've put the hop together. Drop by either of those sites for links to other participants. There are more books to be won than you can poke a stick at!
I'll be celebrating on the 26th January the way I know best – I'll be literally flying an Aussie Flag on the tail of a Dash 8 to Port Moresby and back. Gotta love my job 🙂
But what about the locals? How will they spend the day?
Here in North Queensland the rain's been pouring down by the metre for the last few days. The beef cattlemen will be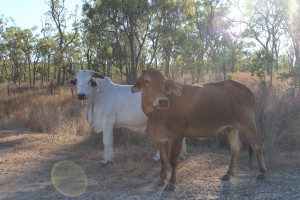 waiting with trepidation to see whether the rain will be a welcome drink or a ruinous downpour. A month or two ago they were watching their properties burn as thunderstorms tossed lightening bolts into tinder dry pastures.  Now they'll be hoping the rain doesn't wash the topsoil off the fresh growth in the paddocks.
You can bet that the dairy farmers on the Atherton Tablelands will be up at the crack of dawn because those pesky cows will still turn up at the milking shed to be relieved of their load of creamy milk.
No doubt the banana farmers will be trying to prevent crop losses in the Tully region as the rain batters their plants.  Maybe they'll knock off early for a beer or two but there will still be fruit to pick and boxes to pack.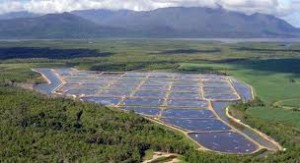 The lads on the prawn farms will still need to check the ponds – their precious seafood just might make a break for freedom with all that rising water. Or the crocs will be swimming in for a free feed!
I'm betting the crop farmers outside of Mareeba will still be working to fill orders for mangoes, lychees, and avocados. We breed 'em tough in the country and Australia Day is most likely another day at work for many rural folk. Sure they'll celebrate, but many will take time out of a work day to do that rather than starting off with a sleep in and a leisurely breakfast.
So how are you planning on spending the day? A bbq? A weekend long party? Or is it just another day at work?
Giveaway details

In honour of our farmers I have three wonderful rural lit stories to give away. These ladies are writers who all live in rural areas and bring true authenticity to their stories.

To go into the running to win one of the books firstly you need to have an Australian postal address (unfortunately Australia Post knows how to charge for overseas postage…) Then email me with the name of the book you'd like to win. Send your entries via the contact form at the top of the page.

If you head over and 'like' my author page on Face Book you'll get double the chances to win one of these great books. Of course, if you've already 'liked' my page then let me know and I'll triple your chance!

Entries close Monday 28th Jan at midnight. I'll post the winners on Tuesday 29th January on a new blog.

For more chances to win great Aussie stories check out the list of blogs over at Confessions from Romaholics or Book'd Out. So many fabulous books are up for grabs.

For more information about these three books visit the author's websites:

Fiona Palmer

Rachael Johns

Cathryn Hein