Well howdy folks, it's the Salty Sea dog, Zeus, here.
This sailing caper is nowhere near as glamourous as my silly humans would have you believe. They dragged me down to the boat, didn't bother with the mandatory safety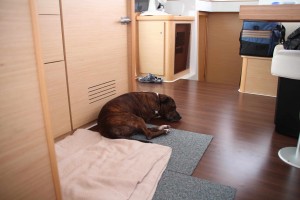 equipment and just tossed me aboard!  Then they kept cooing about how well I was handling it and watching me like I was in imminent danger of throwing up. For pete's sake, I'm a Staffy and we're built to take it!
Anyway I figured I'd better get some shut eye just in case they needed rescuing…
Next thing I know there's all this banging out the front at one of those big locker thingys and bugger me, there's GW on his hands and knees with a wrench. Heaven help us if the two of them are wielding tools!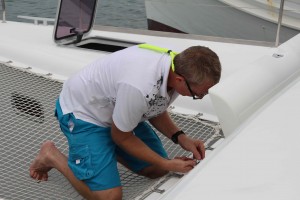 Thankfully they took me for a walk after lunch and these really cool kids were bomb diving off the jetty. It looked fabulous and I can't wait to have a go myself.
Then it was back to the boat for a leisurely view of the world. I have to say I could get used to the ever changing vista. Some highly entertaining people in this new tribe we've gate crashed.
Look forward to meeting plenty of interesting people and telling you all about it. Time for a nap again so ciao for now 🙂