I've left GW and Zeus tucked up on the boat and I'm off for a writerly weekend. (It's good for the boys to bond in a confined space! Shame about the rain…)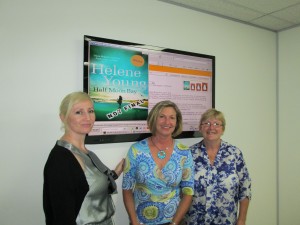 Yesterday I spent time with the rest of the RWA committee – a day full of laughs and hard work. At lunch I snuck in a visit to meet the Penguin sales team in Brisbane which was lovely. It's great to chat to the people who do all the hard yards talking to book sellers around the state. It's also interesting to hear their ideas on what draws a reader to a book or an author. (And here's a tiny sneak preview of one of the concept covers for Half Moon Bay.)
In the evening I joined the rest of the ARRC13 delegates at Lady Jane's Salon, to listen to readings from some of my favourite authors like Anna Campbell and Amy Andrews.
This morning I snuck in breakfast with Anna Campbell, Keziah Hill and Annie West.
So, with such a fabulous start to the day it's off to enjoy the rest of the Australian Romance Readers Convention. There's a massive book signing this afternoon so if you're tired of the rain then come and join us at the Mecure Hotel on North Quay, Brisbane.
Look out for tweets and FB messages as the day progresses – the hash tag is #arrc2013. The announcement of the ARRA awards at tonight's gala dinner is sure to be broadcast far and wide on twitter feeds!!