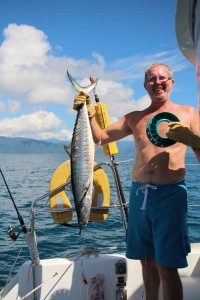 For a journey of so many firsts it was appropriate that Capt G should catch a Spanish Mackerel on our last day at sea. It's been an ongoing joke that trips to the supermarket don't qualify as hunter gathering skills…
So tonight we're moored at Fitzroy Island. We watched the sun go down over Cape Grafton and False Cape, knowing that just around the corner is Cairns. We dined on the freshest fish I've ever eaten and it was delicious. (I'm visiting Cathryn Hein's Friday Feast blog in a few weeks time so look out for some fabulous fish recipes then!)
I'm sat writing the last sunset blog post of the journey and Capt G is sending photos of his catch around the world. Zeus is snoozing, as befits an elder statesman. Roo Bin Esque is bobbing at anchor, waiting for us to turn her to the wind and head north tomorrow.
It's been an amazing journey and thank you for coming along for the ride with us in cyberspace. Every minute has been precious, even when my comfort zone was stretched to breaking point! We've been privileged to visit so many wonderful places, but it's time to head home now. Tomorrow is another first as we become live-aboard yachties in a marina in Cairns. We have new rhythms to learn, new neighbours to meet and a whole lot of adjusting to do for a working life afloat.
Tomorrow I'm looking forward to catching up with friends and then it's time to see what really is just around the corner.