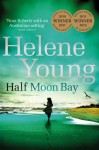 My fourth book, HALF MOON BAY, is about to hit the shelves in three weeks and to celebrate Penguin Australia and Get Reading Australia have teamed up to take me on tour! Here are the details with more to come on the Melbourne leg as soon as they are finalised.
We kick off on FRIDAY 24TH MAY, 2013 in Cairns for a book launch.
6 PM Cairns Aero Club. RSVP Essential to heleneyoung01@gmail.com
From there I hit the road! Look forward to catching up somewhere around this wonderful country.
MONDAY 27 MAY, 2013,

2:00pm  – CALOUNDRA

EVENT: CALOUNDRA LIBRARY & THE BOOKSHOP CALOUNDRA

At: Caloundra Library, Omrah Ave, Caloundra

Cost: Free event, bookings essential 1300 542 727

6:30 pm     – ARANA HILLS

EVENT: MORETON BAY REGION LIBRARY SERVICE

At: Arana Hills Library, Cobbitty Crescent, Arana Hills

Bookings: Free event, bookings essential, please phone 07 3351 3401
TUESDAY 28 MAY, 2013

10:30am   – WARWICK

EVENT: WARWICK LIBRARY LITERARY MORNING TEA

At: Warwick Library, 49 Albion St, Warwick

Bookings: Free event, bookings essential (Ph:07 4661 0342)

6:00pm BRISBANE

EVENT: CHERMSIDE LIBRARY AUTHOR TALK

At: Chermside Library, 375 Hamilton Rd, Chermside

Bookings: Free event, bookings essential, please phone: 07 3403 7200
WEDNESDAY 29 MAY, 2013

Time TBC but PM    – PERTH

EVENT: KALAMUNDA LIBRARY AUTHOR TALK

Bookings: Free event, bookings essential please phone 08 9257 9969
THURSDAY 30 MAY, 2013

Time TBC     – BUNBURY

EVENT: BUNBURY LIBRARY AFTERNOON LITERARY TEA

At: Bunbury Library Phone for bookings : (08) 9792 7190

7:00pm    – EATON

EVENT: EATON LIBRARY & COLLINS BUNBURY AUTHOR TALK

At: Eaton Community Library, 20 Recreation Drive, Eaton

Bookings: Free event, bookings essential, please phone 08 9724 4466
FRIDAY 31 MAY, 2013

PERTH

Time TBC                  EVENT: ARMIDALE LIBRARY AFTERNOON TEA

At: Armidale Library,  7 Orchard Avenue,  Armadale. Phone for bookings -(08) 9399 0125
SATURDAY 1 JUNE, 2013

PERTH

10:30am

EVENT: GOSNELLS KNOWLEDGE CENTRE LITERARY MORNING TEA

At: Gosnells Knowledge Centre, 2232D Albany Highway, Gosnells

Bookings: Free event, bookings essential, please phone Ph: 08 9391 6000
SUNDAY 2 JUNE, 2013

12 Noon – BAROSSA VALLEY

EVENT: SEPPELTSFIELD WINES AFTERNOON CHAMPAGNE TEA

At: Seppeltsfield Wines, Seppeltsfield OR Peter Lehmann Wines, Para Road, Tanunda (tbc)

Cost: $10 Booking Details: 08 8563 8440
MONDAY 3 JUNE, 2013

2:00pm – ADELAIDE – HAWTHORN

EVENT: MITCHAM LIBRARY LITERARY AFTERNOON TEA

At: Mitcham Library, 154 Belair Road, Hawthorn

Bookings: Free event, please phone 08 8372 8244

6:30pm – ABERFOYLE PARK

EVENT: HUB LIBRARY AUTHOR TALK

At: Hub Library, Hub Drive, Aberfoyle Park

Bookings: Free event, bookings essential, please phone 08 8384 0100
TUESDAY 4 JUNE, 2013

1:00pm     – NARACOORT

EVENT: NARACOORTE COMMUNITY AUTHOR TALK

At: Naracoorte Town Hall

Bookings: Free event, bookings essential, please phone 08 8762 2338

7:00pm     – MT GAMBIER

EVENT: MT GAMBIER LIBRARY AUTHOR TALK

At: Mt Gambier Library, 10 Watson Terrace, Mt Gambier

Bookings: Cost $5.00 (includes refreshments), please phone 08 8721 2540
WEDNESDAY 5 JUNE, 2013

2:00pm      – OAKLANDS PARK, ADELAIDE

EVENT: MARION CULTURAL CENTRE AUTHOR TALK

At: Marion Cultural Centre, Domain Theatre, 287 Diagonal Road, Oaklands Park

Bookings: Free event, please book online at www.marion.sa.gov.au or phone: 08 8375 6785
MONDAY 17 JUNE – 19 JUNE 2013

VICTORIA – EVENTS TO BE CONFIRMED