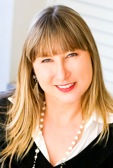 There are some people who just ooze style, no matter what time of day or night it is, not matter what situation is unfolding, no matter how much mayhem surrounds them.  Today's blog guest, Jennifer St George is one of those. I've watched her in action at RWA conferences and thought, 'Wow!' Now after reading some of her recent blog posts, I know why she's so composed and I'm more than a little jealous she's done things I only dream of doing. (Check out this one over at Rachael John's blogspot!!)
So enjoy the conversation as she talks about her latest release!
Thanks so much today for hosting me on your blog today, Helene.  I've been enjoying following your travels around the country for the launch of Half Moon Bay.  Seems as though you've been having a blast!
It's been a fabulous month, Jen! I highly recommend the wonderful Get Reading Programme to readers and writers. A great initiative. So let's start off with what inspired The Love Deception?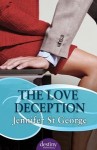 Have you ever had that feeling when you wake up and you don't know where you are? This used to happen to me all the time as I travelled extensively for work before becoming a romance writer. In those first few seconds of waking, my heart would race and my brain would scream…where am I? I'd quickly realize I was where I was supposed to be but that feeling was the inspiration for this story. I wondered what it would be like if you woke up and nothing look familiar….if you had no idea where you were. This is my heroine, Felicity Carter's experience at the beginning of The Love Deception. From that point on, her life is a rollercoaster ride in the search for truth, understanding and ultimately…love.
Oh I can so relate to that experience. Hotel rooms are sooooo disorienting – especially in the dead of night. You enjoy setting your books in exotic locations and you  bring an authentic feel to them. How do you choose where to set your stories?
I have two ways of choosing the backdrops for my stories. The first is using places I've actually been to. I enjoy doing this as I love recreating the experience of the first time I visited a particular place. Trying to capture the sheer fabulousness of somewhere like Venice for my first story, The Convenient Bride, is a challenge I relish. I lived in Melbourne for six years, and the office setting where Felicity and my hero Damon Fullbright work is based on a combination of offices where I worked in that city.
The other way I choose a location is one where I would like to go.  I love researching exotic destinations. Part of The Love Deception is set in Barbados.  I've never been to the Caribbean but my sister-in-law is part Jamaican so I was able to interview her about the food, the culture, the smells, the atmosphere, the architecture and lots of other juicy details to, hopefully, create an authentic setting.  She seemed pretty happy with the result, so I hope readers are too.
Picking locations that you'd like to visit sounds like a perfectly acceptable way of writing and having a Jamaican contact in the family must have been a huge bonus! Insider information is always good.
You've had three novels published with Destiny Romance in the last year, and congratulations on that!! How are you enjoying the 'published author ride'?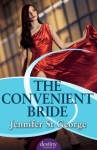 It's been a pretty intense year but nail-bitingly exciting. I love working with my Destiny Romance editors and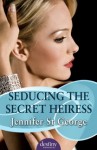 it's fun travelling around the internet promoting my stories and chatting to readers. It was a wonderful thrill to do my first book signing at the Australian Romance Readers Association's book signing in Brisbane this year.  Due to a surname mix up (I was listed as a 'G' surname instead of an 'S') I found myself sitting next to the brilliant Anne Gracie. She very kindly introduced me to some of her avid readers.
Sitting next to Anne would have been a hoot! And how good to meet all her loyal fans as well. I always sit next to Annie West and bask in her glory  🙂 (and collect her free books!) Thanks for taking time out of your hectic schedule to share your story!
Thanks again for having me here today, Helene. I'm looking forward to catching up again at the Romance Writers of Australia conference in Freemantle!
Yay!! Riding the Waves in Freo is going to be fabulous!!
The Love Deception

The Love Deception is my third novel with Destiny Romance. It combines legal intrigue, courtroom drama and a dash of exotic Barbados.

When Felicity Carter wakes up naked in a strange bed, she has no idea how she got there. And no recollection of meeting the gorgeous man calmly offering her breakfast. Felicity flees – hoping that their paths never cross again.
 
The last thing she expects is to discover that her mystery man is Damon Fullbright, partner at the law firm where Felicity has just started work – and her new boss!

Damon is appalled to find the out-of-control young woman he rescued has been hired to work on his team. Apart from anything else, he doesn't need the distraction of a hot blonde with a barrel-full of issues. But one-by-one, Felicity blows all Damon's preconceptions out of the water. When Felicity explosively reveals her dreadful secret, will he risk his reputation and trust her to discover the truth?

Buy any of her books from:

About Jennifer:

Jennifer St George is a romance author whose sexy stories feature courageous, career-minded heroines, strong heroes in glamourous international settings.

She spent the first 20 years of her career in corporate marketing and management consulting roles.  Some career highlights include launching Guinness beer in Russia; reaching 40 million people through a publicity campaign that 'gave away' a pub in Ireland and launching the Ford Ka brand in Australia. In 2000, Jennifer launched an online business and started a marketing company. She won a clutch of awards (see accolades page) including Outstanding Sunshine Coast Business Woman of the Year and the Public Relations Institute of Australia Golden Target Award. She has a graduate business degree and completed an MBA where she was presented with the Rupert Murdoch Fellowship.

A seachange to the sub-tropical paradise of Byron Bay turned her world upside down and she needed to find a new career that didn't involve commuting to the city (not much need for high-end consulting in a small coastal town). Her sister's love of writing led her to try her hand at romance writing and she hasn't looked back.

Jennifer is currently a member of the Romance Writers of Australia Executive Team and is a member of Romance Writers of America and Romance Writers of New Zealand.

Find Jennifer at:

f: https://www.facebook.com/jennifer.s.george.31?fref=ts

t: https://twitter.com/JenStGeorge

g: http://www.goodreads.com/author/show/6521004.Jennifer_St_George