Today's guest is debut author, Dakota Harrison, who's sharing her writing space. Considering we had the worst overnight anchorages I've ever experienced at Fitzroy Island last night Dakota's writing space looks like heaven right now!!
So please welcome fellow Queenslander, Dakota 🙂

Hi Helene, and thank you for having me today!
You'd think, living in Queensland, that it would be lovely and sunny all the time. Nope. Not where I live! So I have a few different writing spots, depending on the weather and my mood.
This is the view from the front of our home.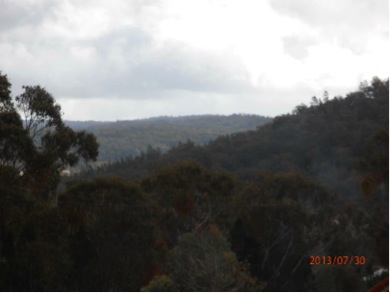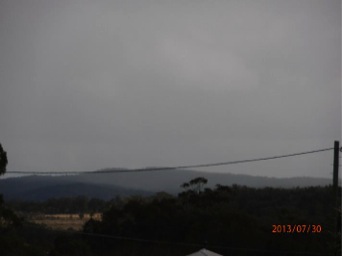 I'm lucky to live in a place that's so conducive to the imagination.
My favorite writing spot, well, it's not my office. That's where I do all my 'hard' work, the editing and the business side of things. To actually write, I like to be comfortable and to be able to look out at this lovely countryside.
This is the main place the first draft takes place –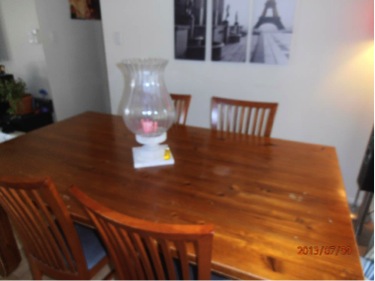 Yep, I sit at the dining table! It's so open and wide, I just love it. And it's also full of scratches and dings from pens, staplers and other paraphernalia.
Also, I sit here on the warm days –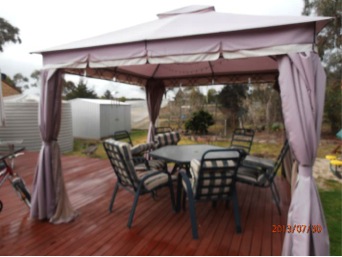 My office on the other hand, is usually a mess, with pictures of my heroes on the walls and window. My husband calls them my 'boyfriends' (he's a tolerant man J) Little R2D2 was a gift from Master 11 – he keeps me company and helps me write.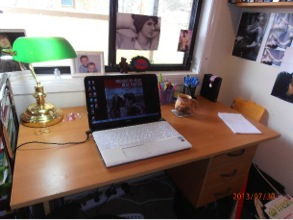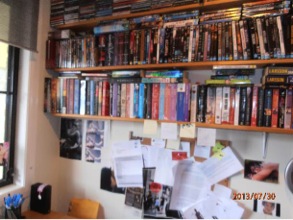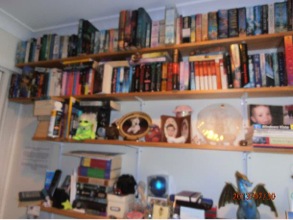 And this little one is Sprocket (as in Spacely Space Sprockets), a new member to the family. She likes to sit and go to sleep on any available pet bed while I write.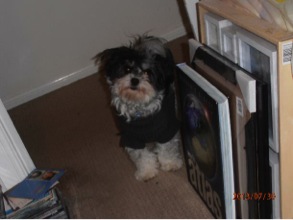 Again, thanks for having us. It was wonderful being here.
Thanks for visiting, Dakota! Sprocket looks like a regular little pocket rocket – Zeus is sends his regards 🙂All the best with this release and the your next book that's due out in October!
So there you go, folks, I love seeing where other writers work and I hope you've enjoyed this peek inside Dakota's world.
About Dakota:

My first attempt at writing a book was about my first love – horses.

But this was no ordinary horse, he was from Alpha Centauri and could talk. I also illustrated this book. I learned the hard way that my writing was far better than my drawing skills.

Growing up on a steady diet of romance novels and sci-if/fantasy in a house where reading of all kinds was encouraged, I never tired of finding fabulous books in both genres, but none crossing over. I dreamed of the day when the Alpha prince would not only get his princess, but would get the chance to bring their relationship to the fore, making it a major plot line. After marrying and having two fabulous children, I decided to combine my two loves and write the books I wanted to read. I love writing both Alpha and Beta heroes, all whom I torture and make fall to their knees before their heroine and beg her for mercy.

I live in a (not-so) sunny part of Queensland, Australia, with my human and fur-kids, and harbor a strange love of UGG boots. K- and J-Pop feature heavily in my home, especially when drafting my novels, drawing inspiration for my heroes from the music videos and anime, much to my children's delight and my husband's sufferance.

~ Dakota x

Find Dakota at : www.dakotaharrison.com
Release date ~ July 30, 2013
Samhain Publishing

Booktopia: http://www.booktopia.com.au/ebooks/exhale-dakota-harrison/prod9781619216518.html

Takeshi is finishing up a brutal double shift in the ER when a familiar—and bloody—face erases all thought of heading home. The broken body of the woman fighting for her life belongs to Gabby, his best friend's mother. A woman he's loved since he turned nineteen, when he foolishly declared his love for her.

She's not dying today. Not on his watch. And not with a promise left unfulfilled.

Gabby has never forgotten the taste of the kiss Taka gave her under the mistletoe all those years ago. Or the silly promise that surely by now he's forgotten. She's wrong. Taka remembers. And she melts as he uses every trick in his highly trained surgeon's hands to heal her—and rekindle the heat between them.

But there's a secret lurking in Gabby's past. And when it follows her all the way to Seattle, it threatens to drag the one man she loves into the nightmare she thought she'd left behind.

Where to find me:

Samhain: http://store.samhainpublishing.com/exhale-p-72890.html

Amazon: http://www.amazon.com/dp/B00CC9PLLA/ref=cm_sw_su_dp

Barnes and Noble: http://www.barnesandnoble.com/w/exhale-dakota-harrison/1115213409?ean=9781619216518