Day One:


Forecast – Wind 15-20 kts, seas to 1.7 metres on a 1.5 metre swell. Clear skies and 24 degrees.

Actual – Wind 20- 25 kts gusting to 30, seas 2.0 on a lumpy 1.5 metre swell. Clear skies, 24 degrees
It's hard to believe that we've been in Cairns aboard Roo Bin Esque for a little more than three months. Blue Water Marina has been a convivial host and the neighbourhood was full of characters. Paul and Penny-Farthing on Phar Lap were always up for a chat and dispensed wisdom in a wonderfully empowering way. We'll miss them both, but hope our paths cross again one day. Elijah Jacob and his sister, Ashlynn, convinced Zeus he was a pup again – not bad for a octogenarian (in dog years of course!)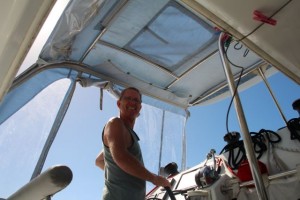 Leaving Cairns was hard after sixteen years – so many good memories, so many good friends. We've watched babies blossom into young ladies, seen friends change jobs, fall in love, move house and grow up – not necessarily in that order. It's been a privilege to have been part of the Trinity Beach Turtles – I only hope I have a similarly vibrant social life when I'm retired!! My writing has benefited enormously from the fellowship of the Tropical Writers, the North Qld Romance Writers, as well as the Trinity Beach Bookclub. So many great discussions about stories and writing. At least the internet keeps us connected still.
I'll miss the Cairns crew at Qlink, so please make sure you all come and say hi in Brisbane – you know how I love to keep up to speed on who's who in the zoo. I'll miss the vibrance of North Queensland and the many outports that I've visited in a day's work.
Nothing disarms me quite like a man in tears and as Capt G steered us out of Blue Water Marina I knew he was feeling the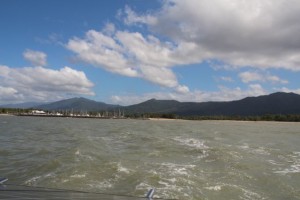 same sadness I was. It was a hard slog yesterday to get to Fitzroy Island and arriving in the dark limited our mooring options. Consequently we rocked and rolled through the night- even Zeus groaned a lot…
This morning we poked Roobi's nose around the corner only to discover the forecast had underestimated the wind again. For now we're anchored back in the bay, watching the tourists loll on the beach and snorkel over the coral bombies just off the sandy white beach. It's a hard life.
Tomorrow if the forecast is closer to the mark we'll head further south. Southeasterly winds and opposing swells will make it a tougher slog heading back to Brisbane.  I can't promise you the same wonderful photos I took on our sail north to Cairns, but I'd love to have you along for the journey again.
Back to writing land for me now – my publisher assures me she loves Banksia Point so far (yippee and a huge sigh of relief !!)  But that means I better get cracking and write the ending.
And if you're wondering about our sudden change of plans you'll find the details here in a previous post.