I'm back! Apologies for my unscheduled absence, but there simply haven't been enough hours in the day for the last few weeks. It started with GenreCon and hasn't let up since. If you missed out on GenreCon then put it in your diary for next year or 2015 as it's a wonderful celebration of Genre Fiction in all its forms. Nothing against Literary Fiction, but I'm more of a Genre girl myself 🙂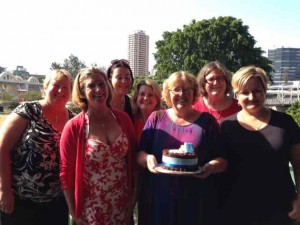 I caught up with writing buddies and helped celebrate Bronwyn Parry's birthday along with Anna Campbell, Cathyrn Hein, Kezia Hill, Amy Andrews, Rachael Johns at the gorgeous GOMA restaurant – sumptuous!! I've also joined Bron in her Frocktober quest to raise money for ovarian cancer research. (And that's on-going so please give generously – find us at Romancing the Frock).
I managed to fit in coffee with one of my primary school classmates – and that's longer ago than I care to think about. It was lovely to catch up –  fascinating to see the similarities between the young boy I remember and the urbane man I spent a couple of hours chatting with over coffee in a spot called The Rabbit Hole. All great inspiration for the stories milling around in my head.
Work has been hectic, challenging, rewarding, and also confronting. Things don't always have a silver lining and I'm such an optimist that always comes as a shock!
My sister, Bronwyn, has arrived from France to spend some time with Mum. It's wonderful to have her home even if we're all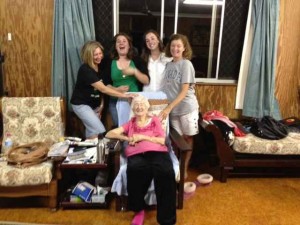 dealing with the reality that at 91 Mum is reaching the point where it's time to join Dad. We keep warning her she's going to have to deal with Grandma Young when St Peter ushers her through the gate, but she doesn't seem phased by it. I guess dealing with losing both her brothers in the second World War forged her into a resilient woman who's endured long past when she thought she would. I don't need to look any further for the source of my stubborn streak!
Editing on Safe Harbour has been scooting along and it's wonderful to see it starting to emerge from its chrysalis. I will always be indebted to Ali Watts for her skill in peeling away the layers and grateful for all that she's taught me.
Today Capt G, Zeus and I threw off the mooring lines and took Roobi out into the bay. It was magical to be back on the water on a day that delivered light winds and smooth sailing. Now, minus the two birds nests we shook from the sails and a few kilos worth of growth on the hulls, we're moored back in Manly again wondering what this week will bring.
I know there will be loads of family time and it's wonderful to have the support of so many cousins as well as the more immediate family. The one thing that I can rely on, though, is no matter what the world's tossing around Capt G and Zeus will always make me smile.
I'm lucky that life's like that.