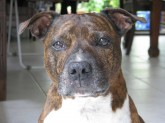 Ahoy everyone, nice to be shooting the breeze with you again (I lurv these nautical terms 🙂 )
After some action packed days of late (tooth extraction, cross dressing, dealing with the Codus Canis Spiritus leak scandal and helping Helene with her edits – she's getting more precious every day…) I've also managed to squeeze in another conversation with those two esteemed colleagues from a previous post, Brother Bunson and Brother Nero Battistel.
Close associates of writer, Gabrielle, these two are also intrinsically linked to the new  Trailermade Production company who's responsible for the stunning short film made for Half Moon Bay. (And Gabrielle's connected in there as well!)
The Trailermade Mutts have very generously offered a behind the scenes peek into the production of this fabulous film and it's fascinating! I had no idea what went into producing something like this. So here's the scoop.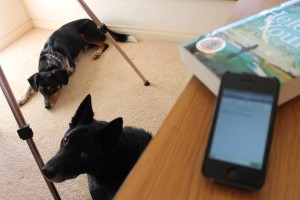 First came the soundtrack (especially made for HMB). Brothers N and B gave directives on levels, atmosphere, beat, body and general suitability. (Helene did run that past me as well and I thought it suited the book down to the ground. And let's face it, I should know as I have to listen to Helene reading her work out while I'm trying to sleep on my beanbag…) Of course, I'm delighted that I may, in some small way, have been the inspiration behind the music – check out the credits at the end of the film!!
Then came the vision drafts. Brother Bunsen explains: "We sleep for some of this time, but Gabrielle relies on us once it is together to give her feedback. I've no idea where she finds all these images and I can only admire the way she uses special effects to draw them together and make it cohesive. Add in a few special titles and voila, she had the first draft ready to go. It was pretty quick really." (I think they probably sleep more than they admit…)
"When Helene emailed back with a very enthusiastic response," adds Nero, "there was vigorous tail wags all round. I was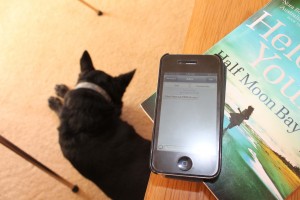 particular chuffed for Gabba with Helene's comments about the 'article' shot."
And I liked that bit too – it got me off my beanbag and over to my Helene's knee to see what all the fuss was about. But I won't let on what we're talking about here. Watch the film and everything will become clear 🙂
Bunsen continued, 'So a few edits later (involving us in the text message shoot) and all was done! Just like that. Oh and by the way, Gabrielle read the book before she did the trailer.'
"Yeah' added Nero. 'We heard all about that! There was a few 'oh wow' and 'oh no really', plus some spits and sputters of cheese and biccie while she read it."
"Oh the suspense…" adds Bunson. "It had us on the edge of our seats. A real page turner. And we love the trailer so we hope every else does too!"
So there you have it – the making of a short film straight! I know how those two feel as it's been an exciting couple of weeks. I hope you all enjoy it as much as we do!!
Ciao for now, Zeus 🙂