Living on Roobinesque and being self-contained means we rely firstly on solar power, then on wind power and if all else fails we have a diesel generator. Any time our engines are running they also charge our battery bank.
The solar panels are true champions, quietly going about their business, never demanding anything but an occasional polish. The diesel generator could cheerfully power a small island and doesn't miss a beat, thudding discretely in its baffled casing.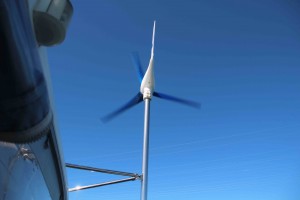 But Wilbur the Wind Generator? Sheesh… What an attention seeker he's turned out to be. If the wind's too light then he won't bother to turn. If it's blowing too much he puts on his auto brake. At 2am this morning when he decided to rattle his pole and wake us up I was all for retiring him… Luckily he's done a sterling job for the rest of the day so has redeemed himself somewhat… But he's on his first warning J
We're moored in the lee of Macleay and Lamb Islands tonight, watching the ferries carrying full loads of passengers to and from the islands of Moreton Bay. I remember the Russell Island land scam from the 1970s where land that was below the high tide was sold to unsuspecting southern investors. Now the islands are busy little communities with many people commuting to Brisbane for work. Watching the sun go down over the bay I can understand why that might be attractive!