Complacency is the mother of all evil. Today she came visiting…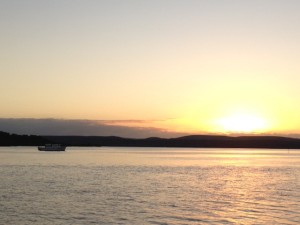 After a gentle start to the day with a golden sunrise at Macleay Island we headed for Manly to collect the mail and a pot of tint for gel coat repairs. I was happily snapping photos and on Face Book discussing the merits of Coochiemudlo Island with Anna Campbell when the auto helm started emitting some interesting clunking noises…
By process of elimination we worked out it was definitely the auto helm and not the rudders (or an errant crab pot caught on our props!) so an hour later, and after several phone calls, we finally found someone who'd service the French system. In true laconic Aussie style he announced that 'there are no moving parts so not much he could do really.'
So after we collected the mail we purchased some new hydraulic fluid and figured we'd bleed the system. As we'd moored off Manly we made the trip ashore in the dinghy. Sadly, halfway in the outboard motor started coughing… Still not sure what the go with that is but that will be tomorrow's mission.
Anyway, off we sailed to Green Island where we dropped anchor. Half an hour later we'd successfully changed the hydraulic fluid and although the auto helm was still a little clunky it sounded a whole lot quieter than it had! Feeling very chuffed with ourselves we gave it one last run through the full range to make sure it was perfect.
This time the clunk and rattle came from behind the steering wheel as it then began to spin. Damn… broken steering cable..
An hour or two later, having emptied both engine bays, traced the broken cable from one side of the boat to the other, removed several cover-plates, re-swaged the wires, and then repositioned it back over the steering wheel sprocket we had uninvited guests arrive.
'Hi sir, we with Marine Parks and these guys are with the water police and this is a routine safety inspection.'
As I handed over life jackets, flares and drivers licences, all now covered in greasy finger marks, I had a hard time summoning a smile for the obligatory photo they apparently need to take. Luckily Capt G was as usual cracking bad jokes about me undoing more buttons on my shirt whilst they took the photograph… Can't believe they all sniggered… And after all that all our safety gear was in date and working order so they left with a wave.
We finished the repair as the sun set. Hopefully it will pass muster tomorrow when we up anchor and give it another work out. The learning curve was steep today, but it's good to know we can work together under pressure and find solutions. Now, if I can just have some writing time again…
Oh no… Capt G's just popped the circuit breaker on the cabin lights so I'm typing this in the dark!!