I love being able to share recommendations for great books and today you get to meet the author of one of those as well as hear about the story. DB Tait's first book, Cold Deception, hooked me from the first page. Her second book in the series, Desperate Deception, kept me glued to the pages when I really should have been working. I love the realistic characters with their flaws and their fears. The Blue Mountains lurk in the background adding to the tension, and the writing is fluid and strong. Grab yourself a copy and curl up for a good read – but first, please welcome DB Tait!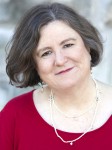 Hello Helene and thanks for having me!
One of the perils of writing romantic suspense is the danger of falling between two genres and possibly satisfying neither. Some readers like more romance, others like more suspense/crime. The crime genre can be fairly gritty, which isn't a quality that's associated with romance.
But when I look at my bookshelf, I see a wide variety of styles of both crime, romance and romantic suspense (the broad term used to describe a novel containing both a crime and a romance). I cut my crime reading teeth (a mixed metaphor if ever I've heard one) on Raymond Chandler and Dashiell Hammett, two of the most classic and I think enduring of American Golden Age crime writers. Today I'm a huge fan of Tana French, Donna Leon, Lee Childs, Harlan Coban and some of the British psychological thriller writers such as Barbara Vine, Frances Fyfield and Sabine Durrant, not to mention the Americans Gillian Flynn and Megan Abbott. And how could I forget the Aussies! PM Newton and Honey Brown write fabulous crime and thrillers.
Today on Facebook (yes, yes I know, I shouldn't be there, I'm writing a book), there was a discussion on what books we'd read on the weekend. I'd fallen into Kandy Shepherd's Hired by the Brooding Billionaire http://kandyshepherd.com/books/hired-by-the-brooding-billionaire-2/ which is about as far as you can get from a psychological thriller and still be reading a book (Kandy is, by the way, a great reader of psychological thrillers too). It was light and gorgeous, with a beautiful garden and a heart warming romance. I love books that will transport me into a space where all is right with the world, just as much as I like having a front seat view of the mind of a twisted psychopath. Or the minds of ordinary people finding themselves in bizarre situations.
Since I have such a love for both the gritty and the romantic, it seemed natural for me to write books containing both. So my heroine and hero in Cold Deception and Desperate Deception have to face some difficult issues in both their relationship and in the crimes they are embroiled in. Julia is scared by her ten years in jail and Dylan, as a cop, is a pretty challenging man for her to trust. They have to keep pushing up against each other's relationship baggage while they're involved in some complex murder investigations.
Romance and villains. What more could you want?
Desperate Deception is out now from your favourite ebook retailer. Links on my website http://dbtait.com/books/
You can find me on Facebook https://www.facebook.com/DBTaitAuthor and Twitter https://twitter.com/DBTait