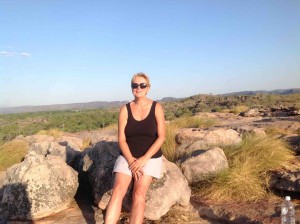 I'm delighted to welcome Annie Seaton to the blog today to talk about the research for her new release, KAKADU SUNSET. I loved the story, particularly the evocative sense of place. It's so real!
To celebrate the release we're giving away a copy of KAKADU SUNSET to one lucky commentor (Australian readers only). Share the post on social media to have more entries in the draw!
So it's over to Annie to tell us about her travels and to share her beautiful photos. (I do hope some of those photos were taken with a very long telephoto lens!!) Enjoy!
Hello to you all! One of the best things about being an author is the research that goes into each book. As well as loving my reading and online work as I research a story and settings, there is nothing like a real visit to the place where your story is set!
In 2013, my husband and I packed up and set off for the Northern Territory where we camped under canvas and beneath the stars for seven wonderful weeks. We missed the southern winter, and enjoyed temperatures in the mid thirties as we explored the beautiful sites in our trusty camper trailer.
Our route took us up through South Western Queensland, through Longreach and Mt Isa, across to Camooweal where we crossed the border onto the Barkley Tablelands. There was much excitement as we put our watches back half an hour, (it doesn't take much to entertain us) and we read the huge sign that says 'Welcome to the Northern Territory'.
On our journey across the state and then north up to Darwin, we explored many interesting places. Daly Waters with its quirky pub, the hot springs of Mataranka, the grandeur of Nitmiluk Gorge (Katherine) and Litchfield National Park. We learned new things about the early exploration and settlement of the Territory and the tin mines and the old homesteads in Litchfield.  In Darwin, we explored the aviation museum, which I must say, Helene, was a highlight of the trip! We also ventured sixty miles off shore on a deep sea fishing trip and that was a scary experience which I prefer to forget about, although a story is germinating from that experience!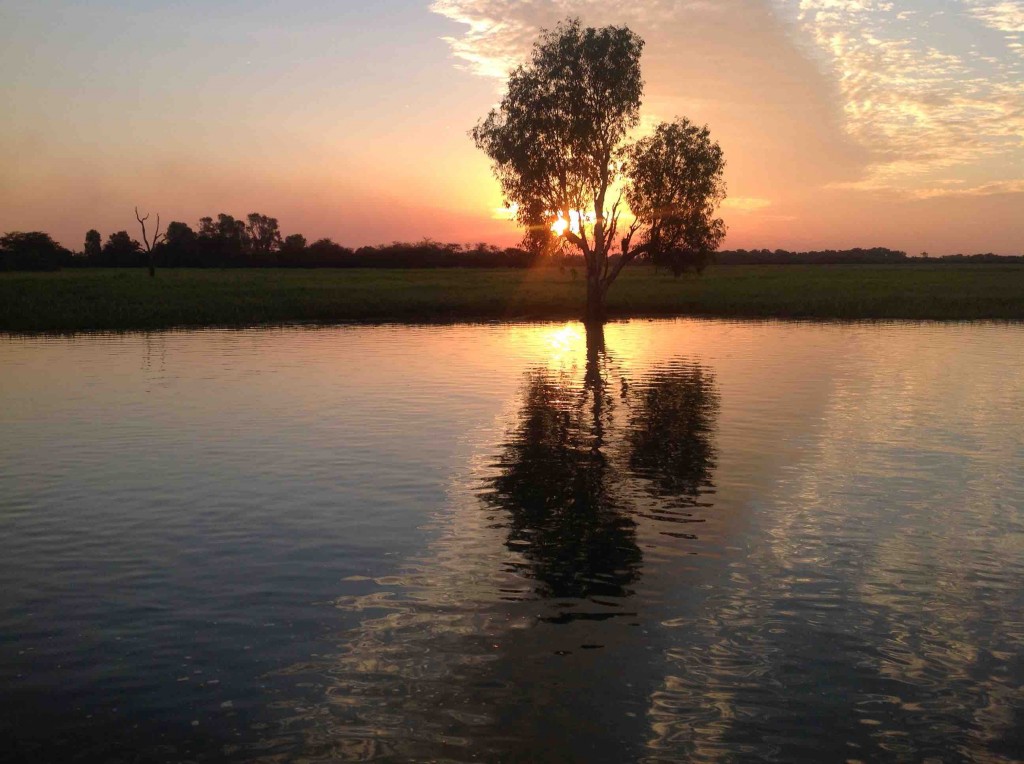 Wherever we explored we saw crocodiles and we developed a healthy respect for them. We were in Litchfield National Park on one particularly hot day, but decided to have a coffee rather than a swim. Imagine my relief when we read a news report the next day that a four metre salt water croc had been discovered at Wangi Falls, the beautiful swimming hole where we had only dipped our toes in the water that same day.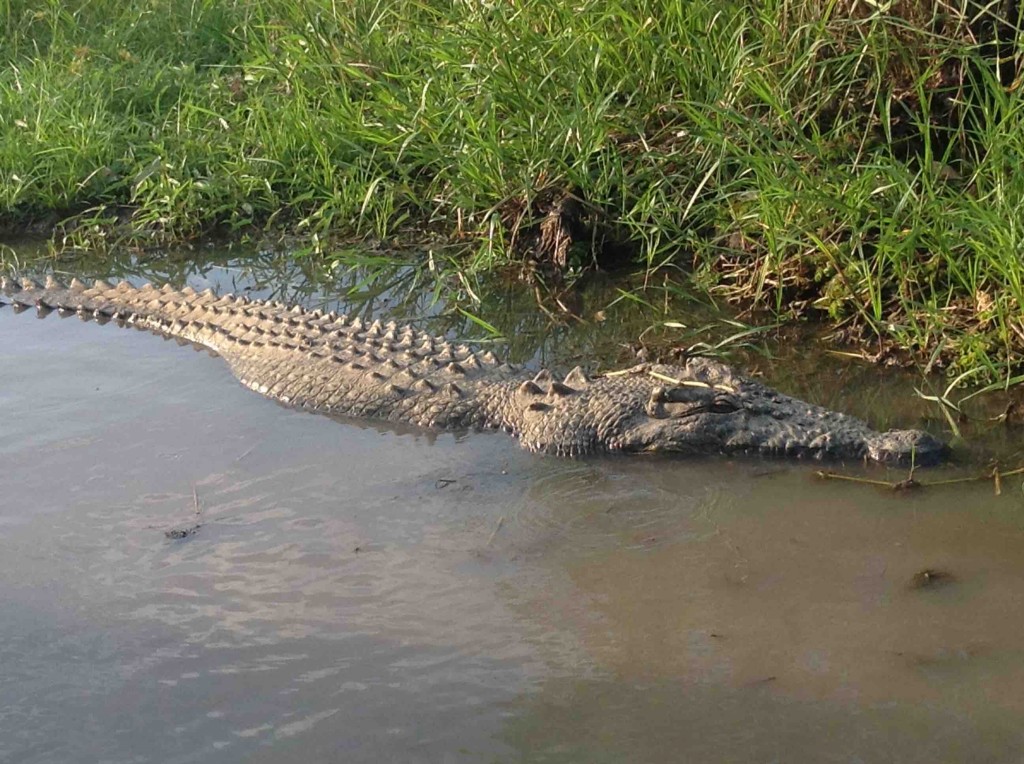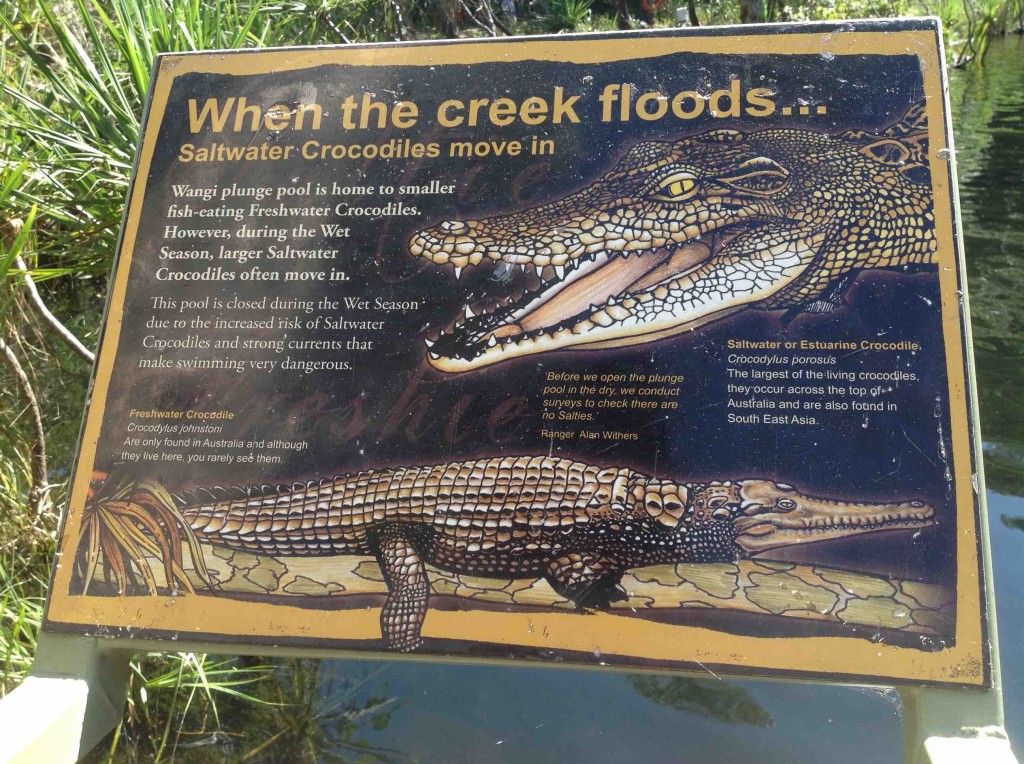 And then we headed into glorious Kakadu National Park; a stunning environment with so much to see. We bushwalked and watched out for snakes, we climbed Ubirr rock and revelled in the majesty of the view across the wetlands, picking out crocodiles in the distance as the small billabongs glinted in the silvery billabongs as the sun set. We watched fool hardy fishermen (and women) fishing knee deep in the river as crocodiles cruised on the surface of the water only metres away.
We took a sunset cruise on Yellow Water and the title for Kakadu Sunset was born. We visited Sandy Billabong and saw the huge crocodiles basking on the edge of the mud, while the uncaring jabirus pecked around them.
As you read Kakadu Sunset, you will recognise many of these places and the experiences we had. The only one that has had a name change is Makowa Lodge which is based on the real Yellow Water.
I hope you enjoying reading about this beautiful place, and enjoy the photos which I took as we explored.
Thanks for having me visit. I must go and get ready for out next camping trip after Christmas! I'd love to hear about the places you like to explore – leave a comment to go into the draw for a copy of KAKADU SUNSET! Share this post on social media to have extra chances to win 🙂
KAKADU SUNSET

In the ancient lands of Kakadu, it's not just the crocodiles you should be afraid of…

Voted Australian Author of the Year in the 2014 AusRomToday Awards

Helicopter pilot Ellie Porter loves her job. Soaring above the glorious Kakadu National Park, she feels freed from the heavy losses of her beloved family farm and the questions around her father's suicide. But when a search-and-rescue mission on the boundary of the older property reveals unusual excavation works, Ellie vows to investigate.

The last thing she needs is her bad-tempered co-pilot, Kane McLaren, interfering. The son of the current owners of the farm, her attraction to him is a distraction she can't afford, especially when someone threatens to put a stop to her inquiries – by any means necessary.

Ellie will have to trust Kane if she is to have any hope of uncovering the truth of what is really going on. Between Ellie's damage and Kane's secrets, can they find a way to open up to each other before the shadowy forces shut her up… for good?
About the Author

Annie Seaton lives near the beach on the mid-north coast of New South Wales. She is fulfilling her lifelong dream of writing and has been delighted to discover that readers love reading her stories as much as she loves writing them. Her career and studies have spanned the education sector for most of her working life, with the completion of a Masters Degree in Education, and working as an academic research librarian, a high school principal and a university tutor until she took up a full-time writing career. She is now published internationally in e-books across the romance genre, in 2014 Annie was voted Author of the Year and in 2015 was voted Best Established Author in the AusRomToday.com Readers' Choice Awards. Each winter, Annie and her husband leave the beach to roam the remote areas of Australia for story ideas and research.

Readers can contact Annie through her website annieseatonromance.com or find her on Facebook and Twitter.

And here are some more of Annie's wonderful images.