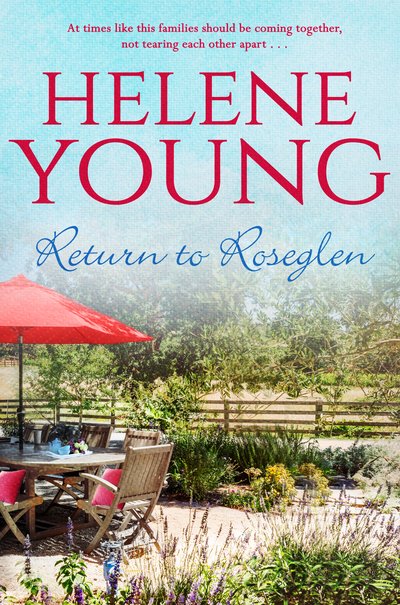 "At times like these families should be coming together, not tearing each other apart.
On her remote North Queensland cattle station, Ivy Dunmore is facing the end of her days. Increasingly frail, all she holds dear is threatened not just by crippling drought, but by jealousy and greed – and that's from within her own family.
Can Felicity, who's battling her own crisis as her fiftieth birthday approaches, protect her mother and reunite her family under the homestead's faded iron roof? Or will sibling rivalries erupt and long-held secrets from the past break a family in crisis?"
I can't believe it's finally about to happen!! RETURN TO ROSEGLEN is 31 days away from being in a bookstore near you. This story, more than any of my previous six books, is special to me. In the course of writing it I lost my mum, a dear friend in her late eighties, and then my mum-in-law. The three matriarchs left a large space behind that won't ever be completely filled…
At its heart RETURN TO ROSEGLEN is a story about the 'sandwich generation' of women who juggle careers, adult children, maybe even grandchildren, menopause, mid-life changes, and their ageing parents.
It's also a tribute to the generation of women who lived through World War 2 and lost loved ones, but who soldiered on, raised families, built communities and survived to a grand old age. It's about the battle to maintain their place in the world as their joints begin to stiffen, their eyesight dims, their world shrinks and they become dependent on their children as the roles reverse.
Sadly, during my research for the novel, I heard too many stories of family betrayal, misappropriation of wealth including houses, veiled threats and sometimes outright violence against an ageing parent…
It's something we as a community need to talk about and guard against. I hope that RETURN TO ROSEGLEN helps that conversation along. To assist with that I have two sets of five books to give away for books clubs. To enter the draw you need to tell me about your book club, how often and where you meet, and why you'd like to read RETURN TO ROSEGLEN.
There are a few ways you can enter.
You can leave a comment below.
You can leave a comment on my FB post or other social media platforms.
Or you can send a message through the contact form on my website.
I'll pick two winners on 16th June and will then post the parcel of five books out to your nominated address. I'd love to see photos of your book club group reading the book as well!!
I'll have another competition once RETURN TO ROSEGLEN has been released for book clubs – something a little different – but I'll post details of that a little later.
And of course there will be more opportunities to win advance copies of the book.
Meanwhile you can pre-order RETURN TO ROSEGLEN with any good booksellers and at the following links.