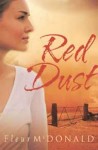 Australian Author, Fleur McDonald will be blogging with me on Tuesday 1st December.  Her wonderful book, 'Red Dust', is set in the mid-north of South Australia.
Fleur will also be talking about her new book, 'Blue Skies' due for release in April 2010, as well as giving some insights into life in rural Australia. Drop by and have a chat!
One lucky visitor will win an autographed copy of Red Dust – we'll have a random draw at the end of the week.
Red Dust

"After the death of her husband, Adam, in an horrific plane crash, Gemma Sinclair defies community expectations – and Adam's dying words – by deciding to hang on to Billbinya, the 10,000-hectare station he bequeathed to her.

As if Gemma's grief and the job of looking after Billbinya aren't enough, a wave of innuendo soon sweeps the community that Adam's plane crash was no accident. Police officers confirm the rumour when they visit Gemma and tell her Adam's death was almost certainly related to his involvement in a cattle and sheep duffing ring. And not only that, but Gemma is indirectly implicated because Billbinya was used as the holding station for the stolen stock.

Intent on clearing her name, Gemma sets out to get to the bottom of what Adam was doing. In the process, she's stunned at the depths of her husband's wrongdoing and shocked at the identities of his criminal associates.

Struggling to put the past behind her, Gemma wonders if she'll ever be able to love again."
Fleur McDonald lives with her husband and two children on a station near Esperance in Western Australia. Like the heroine of Red Dust, Fleur is very involved in the running of the station."