Welcome, Phillipa, I'm delighted to have a fellow Hachette Australia author visiting my blog. I'm looking forward to April and the launch of The Book of Love (out in time for Mothers Day!). The cover is very beautiful.
To celebrate having my first Hachette author I'm giving away a copy of 'Border Watch'. Look for the question at the bottom of the post. The winner will be announced at the end of the week.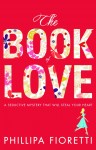 And now to my guest.
Phillipa, tell us about your writing journey? Did you know from an early age you wanted to pursue writing or was that something that came later?
I've always been a big reader. My whole family had their noses stuck in a book when I was growing up and the habit has stayed with me. Reading has always been an escape, a refuge and a pleasurable space and I never wanted to spoil that by attempting to write. What I really wanted to do from a young age was be an archaeologist, but I followed another passion and that was visual art. After twenty years and a couple of children I realised I didn't want to make art anymore, so I thought I'd have a go at writing and if I liked it, I'd keep going – and it was so much fun and so addictive I'm still at it three years later.
I have no formal creative writing training but with a couple of university degrees I decided to just dive in. Someone suggested a creative writing course, but after years of tertiary study I'd rather pull my own head off than study formally again. I am self-taught in other areas and it's a good method for me.
I enjoy writing romantic comedy/suspense and I'm quite comfortable focussing on genre fiction. I don't want to write literary fiction. I still read widely but I enjoy writing comedy and find it a better, healthier headspace to be in than something deeper and perhaps not so funny.
You have a beautiful website – very visual, very luscious, very eclectic.  How do your other artistic talents influence your writing?
Besides reading, pictures have always been important to me.  My father used to bring home photography books from the library and I'd spend hours looking at them. I loved picture books as a kid – still do, (I've kept all my favourites from my children's picture book days and still buy the odd picture book for myself), I like magazines with pictures – art, collections, travel, style, food, fashion, anything with pictures in it or on it – so I've taken to blogging like a duck to water because now I can spend hours wandering through Google images and justify it to my long suffering partner.
I've set everything I've written, including The Book of Love, and its sequel The Fragment of Dreams in the art and antiquities world. But I'd have to say that after twenty years creating prints, sculpture, drawings and so on, the biggest influence I've taken with me into writing is an understanding of how to manage the tensions that surround creative work, how to leave things open until they are ready to be closed and not fret about it, how to accept the unknowns and, importantly, learning to trust my instincts. Moving into writing may have been a bit easier for me because I'd done so much of the psychological groundwork that needs to be done with creative work. I still don't like rejection, however!
Congratulations on being chosen to take part in the QWC/Hachette manuscript development programme in 2008. What were some of the highlights? What impact did it have on your writing?
It's hard to say what were the highlights because it was all good – meeting and making friends with the other seven writers, the excellent seminars on writing by Kim Wilkins, the talks given by industry professionals – publishers, bookseller, agent, author, and of course, having one to one time with a professional publisher who had read the manuscript and wanted to talk about it. That's quite a thrill, believe me. I never got around to submitting The Book of Love to anyone. I finished it, three friends read it and then the Manuscript Development program came up so I sent it off, and it all happened very quickly. Having that time to talk about it and think about it – with no cooking or child wrangling may I add – was very precious.
I learned a lot about the craft of writing from Kim's excellent seminars, (I still refer to the notes I took), and the seminars on how the publishing industry works were very good, fascinating for a beginner like me. Being selected was an enormous confidence boost and participating in such a program gave me a good foundation for what came next, (being offered a contract, editing, setting up the blog and so on), and has still to come.
You're working on your second book for release in April 2011. How's that work progressing? What sort of writer are you – someone who plots first and fleshes out later or one who 'flies by the seat' of her pants?
I'm a bit of both really. I start with dialogue usually and follow where that goes and as the ideas jell I build up scenes and characters and then ideas start to come and it all has a sort of organic fluidness to it. Then I get tough and start structuring and plotting and getting it all in shape.
The sequel, The Fragment of Dreams, is about to enter the 'get tough' phase. I'm hoping to have it finished by the April release of The Book of Love because I don't want to be influenced by anything other than what I felt the characters would do. It had to be their emotional and psychological imperatives driving them, not what anybody wanted them to do next.
I've loved writing about Lily and William, they are almost my friends and I still find them endlessly interesting. So I'll be sort of sad to let them go, but they need to get on with their lives in that parallel universe where book characters live.
Thanks Phillipa. It's been lovely having you on my blog. I know your book will find a home on many, many bookshelves.
You can find Phillipa at www.phillipafioretti.com.au or follow her at twitter.com/weeflower
And now to the question.  Lily, the heroine in The Book of Love is a passionate jam maker. What's the most unusual jam you've tasted? Leave a comment and Phillipa will pick a winner at the end of the week. The winner will receive a copy of Border Watch as soon as it arrives from the printers.
Thanks for dropping by.
Hélène
Phillipa was born in Sydney and studied humanities, visual arts and museum studies and went on to work and exhibit as a printmaker, as well as teaching part time at tertiary level. She now writes fiction full time and in 2008 was selected for participation in the Hachette Livre/ Queensland Writers Centre Manuscript Development Program. Married, with two children, when she's not writing or reading she's invariably doing something to do with food, watching movies or enjoying time with friends. She likes painting her toenails and eating sweet things, dislikes aquariums and swimming in deep water.