We watched the boys tow surfing on solid three meter waves off Prevelly Beach last night. I was very jealous that I'm no longer fit enough and, never was good enough, to be out the back surfing with them. The sunset was magnificent, but the rain clouds were rising in the east.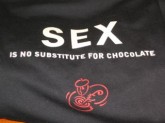 We woke to the sound of tyres on wet roads and a chill in the air. Misty mizzle enveloped Margaret River. Breakfast was delicious in the local bakery watching a steady procession of local tradies heading in for their bacon and egg roll. (So much raw material for the classic, rugged Aussie male with great biceps and a good arse! Sigh…)
We hit the road with Neil for a day's winery tour. GW is currently snoozing, as I type, after sampling wines, cheese, olive oil, chocolate and venison in a meandering, relaxing day. Neil (Margaret River with Neil McLeod) was fabulous. A third generation local, Neil had the laid back charm of the natural storyteller (and he had a few to tell!) along with a carefully paced itinerary that kept us moving through a feast of the senses without rushing us – even at the chocolate shop! (They had chocolate body scrub and moisturisers along with some very wise t-shirts…)
The cows were everywhere and I'm not talking Friesians, Guernsey or Jerseys! 85 highly decorated bovines are scattered around the region – it's tempting to make it my mission to photograph everyone of them!!