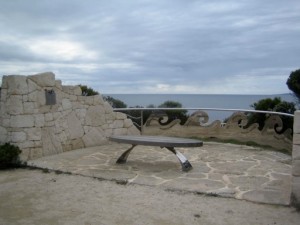 As a writer I try to convey emotion – anger, happiness, fear, joy, grief. It's impossible to have experienced the full gambit of emotions my characters need so I draw on people around me, on stories I read in newspapers, on TV interviews. Sometimes I stumble across something unexpected that slams into me, knocks me down.
Visiting Gracetown was one of those moments. The tiny community is north from where we are staying in the Margaret River, a small hamlet nestled into a curving bay. We drove into the carpark at the top of the cliff. The sky was overcast, the ocean a seething angry navy-blue. I took the camera and walked along the cliffs.
The memorial stopped me dead. The curving waves each had a name inscribed into them, the bench perfectly placed to sit and contemplate the view. Then I read the plaque.
I don't know how a small community recovers from something so devastating. How do people pick up the pieces and carry on when they must face reminders every day? How do you cope when your world has literally crashed down on you? It humbled me. The optimism in the memorial, in the dedication, are proof of the resilience of communities, proof that people endure and survive, proof that grace can still be found even in the face of overwhelming grief.