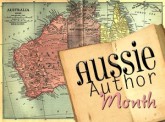 I doubt there was any novel more quintessentially Australian for me as a teenager than Puberty Blues by Kathy Lette and Gabrielle Carey. I hated it, I loathed and I rejected every single premise in the story. Puberty Blues was a coming of age surfing story set in the Sunderland Shire with a couple of 13 year old girls doing their best to fit in with a gang of board-riders.
At the time I spent most weekends and school holidays at Currumbin Beach, surfing, swimming and hanging around with locals or  clubbies (surf-life savers for those not familiar with the slang). I can remember how outraged my friends and I were that this book was held up as some sort of slice of  reality. We bought one copy and passed it around because no way in hell were they going to profit from us. We didn't behave like they did and we resented the inference that every teenage girl who went to the beach regularly was either shagging an endless parade of young men, drinking themselves senseless in the back of a panel-van or passing the bong-bottle around.
We weren't goodie two shoes entirely (although I drank lemon squash for years because it was easy to pretend it was a gin and sqaush…), but we had enough self-respect to know that the path to destruction was a slippery slope if you lost your footing.
Of course, that was precisely the point of the story…
In hindsight Puberty Blues may well have been Gabrielle and Kathy's reality. What we missed entirely as sixteen year olds was that some teenagers do feel the pressure of peers more keenly. Some do resort to doing things that ultimately harm them because they want to fit in. For some young women the desire to belong sees them saying yes when no would be the more sensible answer – you only have to consider some of the recent football dramas, of all codes…
Kathy and Gabrielle moved on to bigger and better things. Puberty Blues became a movie. It took me many years to buy another Kathy Lette book, but I now have quite a few on the shelf, and I'll stop and listen when I hear her being interviewed – she has a razor-sharp wit. Researching to write this piece I discovered Gabrielle Carey has also been a prolific writer. Her latest book, Waiting Room, sounds like an insightful if sad story.
Funny that a book I could so detest as a teenager can make me feel nostalgic. Do you have an Australian story you loved to hate as a teenager and now see in a different light?