My blog guest today is debut author, Mandy Magro, who's a fellow North Queenslander. Her novel, Rosalee Station, is published by Penguin Australia who have a strong tradition of contemporary rural stories with established authors like Rachael Treasure and Fiona Palmer. Mandy brings a younger voice to that genre.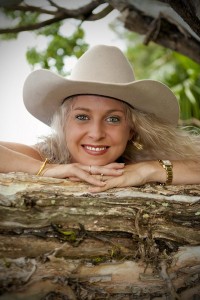 Mandy, welcome to my corner of the internet and congratulations on your recent launch.
Hi Helene, thanks for having me today. I so excited to be speaking with you.
You live in an area of Australia that many people wouldn't have visited. What do you love about living where you do? What makes it special to you?
Dimbulah is such a unique town in the sense that it is so close to so many diverse landscapes. We have the Great Barrier Reef only 2 hours away, the lush green rolling hills of Malanda and Milla Milla in the opposite direction and the hard core outback not far from our doorstep. Dimbulah itself is on the fringes of the outback so our natural countryside is quite mountainous and rocky going from fields of green in the monsoon weather right through to hues of brown and red in the drier months. I love the sense of community that Dimbulah has and it is very rich in the history of gold mining which I find fascinating, and might even have to add it into one of my novels in the future! I adore the serenity of living out here, where you can watch Mother Nature at her best. Where there are fields of cattle and horses everywhere you look. It is what inspires me to write. There are also rodeos all around where I live quite often throughout the year and that is my favourite sport to go and watch.  I was born in Mareeba, about 45 minutes from here, so I class myself as a born and bred local. The country environment out here holds a very special place in my heart and I could never see myself leaving the sanctuary of the Tablelands of North Queensland.
It's a beautiful part of Australia isn't it – my favourite coffee supplier is out past Mareeba and I love going for a drive to stock up on freshly roasted beans.
Your book launch at the Almaden Races sounds fabulous. Tell us why you chose the races for your launch.
Almaden is only about thirty minutes drive from Dimbulah, out in the bush so to speak! This will be my first year at the Almaden Bush Races and I cannot wait to watch the riders gallop their horses down the dirt track, and of course launch my book there! I have been told by many that it has a fabulous atmosphere. I felt that it would be the ideal place for me to launch Rosalee Station as it is in the outback and holds all the exceptional qualities of a family fun weekend away the country.  With my jeans, boots and hat I will be in my element there. The Almaden Bush Races encompasses the spirit of Rosalee Station and that makes it perfect for my first ever book signing.
Looking forward to seeing you there, Mandy!! We're planning on camping with friends for the weekend. Should be a hoot!
Where did the idea of Rosalee Station start?
I am so passionate about the outback and love reading novels by Australian rural fiction authors. Although, I found that there weren't enough books in the country genre to satisfy my insatiable appetite for them. So one day, I had a wild thought, why don't I just write one myself! I have had amazing experiences in the outback with some memorable Aussie characters, from being a camp cook at Tobermory station, helping behind the chutes at rodeos to being a fruit farmer, and all these aspects of my life came together and helped me to write an exciting novel threaded with an amazing love story. Sarah Clarke, the main character, is a heck of a lot like me, even down to the curly blonde hair! I cried with her, laughed with her and fell in love along with her throughout writing Rosalee Station. It was an incredible experience.
How wonderful to be able to use real-life experiences in your stories. So what sort of writer are you, Mandy? Do you plot the story, write scenes and connect them or just go with the flow?
I plot the story to a minor extent, very miniscule actually. I find I am more of a go with the flow writer. I like my characters to surprise me and take me with them on their adventures and romances. Sometimes I even astonish myself with the direction the storyline heads in but I find it fun and intriguing writing in this style. I am very overly organized in my day to day life with notes and to do lists everywhere so it is nice to have my work be a little spontaneous. I love it that way! It makes writing more of a pleasure rather than a job!
How did you go about getting a publishing contract? Was it a submission to a slush pile or do you have an agent?
No, I don't have an agent. I prefer to have control over my business dealings and I like to deal directly with people. I was lucky enough in the end to not need the services of an agent. My journey into the publishing world was unbelievable. I had a completed manuscript after six months of solid writing and I firstly sent that off to Allen and Unwin for their Friday Pitch. They were very keen but taking too long to get back to me with a contract as they were very busy, and I am very impatient!, so I decided to send Penguin an email, pleading gently with them to have a look at it. They agreed to read through it and within a week I had a two book contract with Penguin. I am so happy to be signed by Penguin; they have been so supportive and have believed in me every step of the way. I have the most wonderful publisher who is always there for me when I need to talk with her.

Sounds like Penguin are looking after you. What have been some of the unexpected joys on your publication road?  What have been some of the challenges?
Every time I sit long enough to think about actually being a signed writer I have to pinch myself. It is a wonderful feeling. One of the most joyous things is when I receive and email from somebody who is eagerly anticipating the release of Rosalee Station. It overwhelms me to know that people will be reading my story. I found the first lot of editing very challenging. It was a steep learning curve for me as I was new to the publishing world. I cried bucket loads, (almost becoming a share holder of Kleenex!), when I first saw how much I had to either delete or change but in the end I completely understood the need for this process.
Editing can be confronting to start with can't it… I know all writers go through some angst when they get those first copy edits.
What's next? Can you give us a sneak into Jacaranda your novel for 2012?
Jacaranda is in the hands of my wonderful publisher now, at Penguin, awaiting the first round of editing. I can give you a snippet of what it is about, but only a wee one! Jacaranda is the story of Molly Jones, a young woman who is gifted in the art of horse whispering. She faces some tough challenges when she is torn between her love for her granddad, the love for her daughter and the love of her life. The story is full of loveable Aussie larrikins, beautiful Australian countryside and two very sexy country men…what more could you ask for!
At the moment I am in the process of writing my third novel, Melaleuca Homestead. It's a story of hope, devastation, loss, triumph, the will to live and the power of love carrying you through a time in your life when you didn't think you were going to make it. All set in the wonderful Australian countryside of course! I also have ideas for my next two novels after these which I am madly jotting down each time they come to me, so there are still plenty more stories to be told. Look out post it notes, you are not safe around me! ( I just hope that I don't run out of places to stick them!) J
I know exactly what you mean, Mandy. Thanks so much for dropping by the blog and all the best with Rosalee Station and your future stories.
ROSALEEE STATION

Sarah Clarke's dream is to experience life in the real outback. When her boyfriend Brad offers her a job with him on Rosalee Station, she can't believe her luck. But within days of arriving, her relationship is in tatters, and the dream is fast losing its lustre.

Sarah stays on to prove herself in the unforgiving land, earning the admiration of Matt, the station owners' son. Beneath the wide outback skies, the pair are irresistibly drawn to each other, until a stolen kiss leads to disaster. Sarah leaves Rosalee, convinced she'll never see Matt again – but fate has a way of intervening…

From the thrill of mustering cattle to the wild adrenaline of a country rodeo, this passionate love story takes you to the very heart of the Australian outback.
Mandy Magro lives on the family fruit farm in Dimbulah, Tropical North Queensland, with her husband, Drew, and her young daughter, Chloe Rose.
She loves writing about the Australian outback and all the wonderful characters who live there, and her own many adventures on the land have made her the passionate country woman she is today.
You can find Mandy at www.mandymagro.com as well as Face Book.