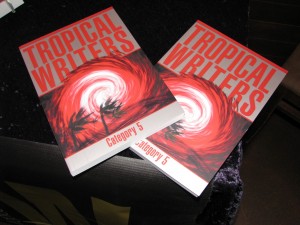 The Tropical Writers, a diverse and talented group of writers living in North Queensland launched their fifth anthology today called Category Five. No prizes for guessing where the name came from!!
It's a wonderful eclectic collection of poems and short stories all centred around North Queensland.
The launch, held at the Havanna Music Cafe (another new restaurant to add to my list!), celebrated the stories of the north and the writers. It was wonderful to see such a good crowd turn out on a lazy Saturday to listen to readings.
Congrats to everyone involved in putting the anthology together! Well done, you should all be very proud of your achievement 🙂