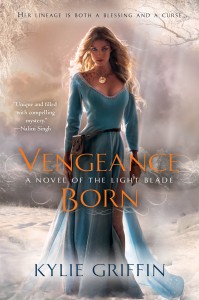 Thanks to everyone who suggested a new title for Kylie Griffin's third book!
I'm so glad I didn't have to make the impossible choice. Hats off to Kylie for captivating our imaginations before we've even had the opportunity to read the first book!
And here's Kylie again to announce the winners!!
Hi, everyone, thanks for dropping around. You made it so difficult to choose a winner, I decided to let the fur balls help out!

I grabbed Splat, threw all the names on the ground and let her choose/sniff one.

She sniffed one then batted two. One ended up under her, the other she chased across the floor, and I followed hoping to save it before she ate it… So, with her recommending three, the results are as follows:

*the sniffed name was Sandy, she wins the ARC

* the one Splat sat on was Peta

*the one I saved from being eaten was Gabriella

Peta & Gabriella have some book cover magnets heading their way – I've a few spare prizes set aside and because there was some great answers offered I thought I'd offer a couple of smaller prizes 🙂

Send your details to me at kyliegriffin71@optusnet.com.au and your prizes will head your way!