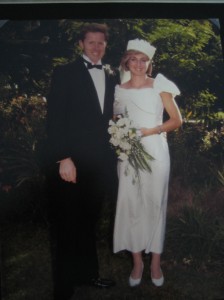 Yesterday was a very good day.
Started well when both GW and I remembered it was our 24th wedding anniversary – who could believe we looked so young when we married all those years ago…  Unfortunately we both had to work, so that put a tiny dampener on the day. Celebrations were very low key at 10 pm when I finally made it home from a dark and stormy night in the air.
The next big news was finding out BURNING LIES will be released on the 2nd July 2012. That means I can now start organising parties 🙂
So I'm date claiming 6th July 2012 for those of you in Cairns and the 13th July 2012 for those in Brisbane.  Venues are still to be decided!
The good news kept coming. Since I now have the benefit of two publishers I have twice the announcements to make! SHATTERED SKY was to be re-released as a B format but Hachette have recognised that the e-book market is storming ahead so instead they've reduced the price of SHATTERED SKY's e-book to reflect that. You can now by WINGS OF FEAR and SHATTERED SKY, in most countries, as ebooks for $10.99 and $11.99 respectively. That means on your e-reader you can have the set for less than the price of one paperback book!
And the final thing for the day? I arrived at work to find I had an all female crew for the second time in a week 🙂 A very good news day indeed!