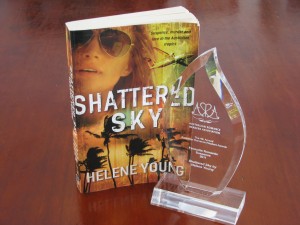 Oh my, what a wonderful evening celebrating romance. Readers and authors flew in from all around the country to attend the Australian Romance Readers Association's gala dinner at the Castlereagh Hotel in Sydney.  Apart from having fun – and that's obligatory – the evening is to announce the ARRA awards for 2011.  Members of ARRA nominate their favourite books and authors for 2011. The top ten in each category are then listed for voting. After that the members have three weeks to vote for their favourite from that list. In some of the categories the voting was incredibly close so being on the short list alone is a huge honour.
The 'bling off'  – a tradition now firmly established – was won jointly by Tracey O'Hara and Mel Haffner  who both looked sensational. Paula Roe, effervescent as always, delivered the key-note speech which as you'd expect had us all laughing. Seems she read some pretty racy romances when she was twelve! The food was delicious, the company exceptional and the room was full of laughter. Lovers of romance know how to party!
Congratulations to all the winners.
Paranormal Romance – Kiss of Snow by Nalini Singh
Short Category Romance – With This Fling by Kelly Hunter
Sci-fi, Fantasy and Futuristic Romance – Archangel's Blade by Nalini Singh
Historical Romance – Midnight's Wild Passion by Anna Campbell
Contemporary Romance – A Lot Like Love by Julie James
Erotic Romance –  The Lone Warrior by Denise Rosetti
Romantic Suspense –Shattered Sky by Helene Young (Yay!)
Continuing Romance Series – Nalini Singh
Favourite Australian Romance Author – Anna Campbell (for the 3rd year in a row!!)
It's off to the airport for me and an early flight home and a quiet celebration with GW. Thanks to readers who voted for Shattered Sky. It is wonderful to know my characters have connected with so many people 🙂
And here are the photos – not as many as I thought…