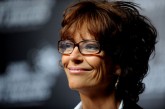 Driving home last night from the Trinity Beach book club meeting I was listening to Tony Delroy on the ABC's Night Life. His guest was Rachel Ward, chatting about her recent article in the Sydney Morning Herald titled 'I Am Strong. I Am Invisible.' Also along for the conversation was researcher Mark Crindle.
The gist of Ms Ward's article is that women over fifty, in Australia particularly, have become less visible. They are the spending power house of the baby boomer generation and yet images of women over fifty aren't often found in the media spotlight. These women (and I'm only a  couple of birthdays away from joining them) have three times the net worth of their Gen Y counterparts and they, not the male baby boomers, are big spenders.
So in a consumer society like Australia why aren't they given more status? In America there are high profile women in the public eye – Diane Sawyer, Oprah Winfrey, Barbara Walters, Jane Fonda – the style setters. In Australia Julia Gilliard, Quentin Bryce and Ita Buttrose spring to mind, but none have the influence of the Americans. Is it simply that we Australians love our beaches and our sport so worship youth and good health above wisdom and experience? Seems a little too simplistic for me… While I don't have an easy answer as to why it occurs I do believe there's something we can do about it.
Late last year there was spirited debate about the merits of women writers and the perception that more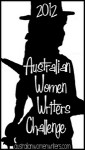 male writers win Australian writing awards and so garner the flow on benefits. The Stella Prize has been set up to address this perceived bias and is being launched during the Sydney Writers Festival.
Elizabeth Lheude's answer to the dilemma was to initiate The Australian Women Writers Challenge to widen the awareness of the number of Australian women writing great books – and that's taken on a life of its own thanks to the power of the blogsphere.
I argued at the time that women had the power to change that status themselves by choosing where they spend their money and the statics quoted last night add more weight. Individually we middle aged women may not be able to influence the small number of middle aged white males who choose the images we see in the media, but collectively? They need us and our discretionary spending more than we need them and their glossy advertorials.
We women will live to a greater age than the males of our generation, we'll spend longer and we'll be the matriarchs of families influencing the next generation, and the generation after that. Make our spending power count. We don't have to go quietly once we hit fifty – I (and my credit card) have no intention of disappearing with a whimper.
Even as a teenager I loved that Helen Reddy song.