This is a review for the Australian Women Writers Challenge.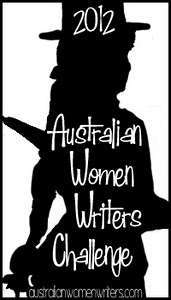 The Fine Colour of Rust by P.A. O'Reilly.
The genre? I'll call it contemporary fiction with humour – truckloads of it.
When we first meet Loretta Boscovic she's daydreaming about dumping her kids in an orphanage and riding off into the sunset with her dream lover – on a Harley no less. A single mum, she lives with her two children in dusty town called Gunapan.
I was captivated from the opening pages. With sparse words, P.A. O'Reilly skilfully crafts a strong image of a struggling town and its inhabitants. The goats, Loretta's car, her constant battle for what's right make for an eclectic lead character, but the lesser players aren't abandoned either. Norm reminds me of my father and his cronies. The regulars at the town meetings feel like people I've met before. Loretta's children, Melissa and Jake, both have a depth and a charm that makes me care about them.
I read the The Fine Colour of Rust while I was travelling from Cairns to Taree and back again. Many times I laughed out loud – particularly at the dialogue – causing my fellow travellers to shift in their seats with looks that clearly said 'mad woman alert.' I stopped reading several times because I knew I was close to tears. Being considered a little nutty is fine, but I know a weeping woman makes others uncomfortable and I didn't want to have to explain myself. It was too complicated for that!
The characters are stereotypical and yet they are unique. They are so much more than cliches. I cared about them, I laughed with them and I cried with them. They lingered in my mind long after I finished the story and I've been forcing the book onto friends and relatives ever since.
It's Loretta's ability to be wryly amused by everything, including herself and several disasters, that takes the story from depressing to uplifting. I gather The Fine Colour of Rust started life as a short story. I'm very glad Paddy O'Reilly decided to explore a little more or I would have missed out on meeting Loretta and the good folk of Gunapan.
Single mother and dreamer Loretta Boskovic lives in Gunapan, a town lost in the scrubby Australian bush. She has fantasies about dumping her two kids in the orphanage and riding off on a Harley with her dream lover. Her best pal is a crusty old junk man called Norm. She needs a lawnmower; he gives her two goats called Terror and Panic.

Loretta's a self-dubbed 'old scrag', but she's got a big heart and a strong sense of injustice. So, when the government threatens to close down Gunapan's primary school, and there's a whiff of corruption wafting through the corridors of the local council, Loretta stirs into action. She may be short of money, influence and a fully functioning car, but she has loyal friends. Together they can organise protests, supermarket sausage sizzles, a tour of the abattoir – whatever it takes to hold on to the scrap of world that is home.