I don't know about you, but I love reading book reviews. I've found many new authors because someone's review has resonated with me. I have several on my 'must follow' list and you can find them on an earlier post at here. Today I'm delighted to welcome one of those reviewers to my blog and I hope you enjoy the conversation.
Thanks for taking time out of your busy schedule to talk to me, Shelleyrae.
You are welcome Helene, thanks for inviting me!
Where did your love of reading start?
My parents say I taught myself to read at about three and after that was rarely seen without a book in my hand.  I had a pretty active childhood, I surfed, I was a gymnast, played tee-ball, netball and even represented my state in basketball but I also read over breakfast in the morning and under the covers at night. I never missed a fortnightly visit to the library, borrowing the maximum number of books allowed each time and raided the bookshelves of family and friends.  I've never grown out of the habit and reading has always been a comfort, joy and escape for me.
That sounds very familiar to me! How many books do you read a day? How do you find time to read, write the reviews and look after your family as well?
I usually read 5-6 books a week, though it depends on what else is happening at the time. With a husband, four children aged between 6 and 16, and 2 part time jobs I am kept pretty busy. My children are all at school now so I have school hours 'free'. Generally I divide those hours between work and the blog fairly evenly though the blog tends to get more attention lately. I don't usually work past 4pm as there is homework, baths and dinner to manage, after the children are in bed at 8.30pm, I collapse in front of the TV with my husband for an hour or so. He heads off to bed early since he leaves for work at 6am, I spend an hour or so tidying up and getting things organised for the next day and then I finally have a chance to sit down and read. Usually I finally turn in at 2am though as often as not I am still reading closer to 3 or 4 am, I don't sleep much (nor do I iron LOL).
You certainly don't need much sleep and ironing is overrated 🙂 What inspired you to start reviewing books? When you posted the first book review for your blog where did you think it would lead?
Reading has always been a pretty solitary passion for me, so discovering Goodreads a few years ago when I was invited to join a book club group was a revelation. We chose a variety of books which we reviewed and discussed but the group fizzled out after a few months. I, however, was hooked and joined a handful of Goodreads groups thrilled to be *meeting* other booklovers.  I was happy enough writing and sharing brief reviews of what I was reading at Goodreads . Then I was introduced to Netgalley and I created Book'd Out primarily to better my chances of my requests being accepted. I had no real expectations of the blog, viewing it simply as an extension of my Goodreads account initially, but gradually I made connections with other book bloggers with similar reading tastes to mine and began to take it more seriously. It is my participation in the AWW challenge this year that has really led me to focus on Book'd Out, it has provided me with opportunities I never expected to have, like the chance to meet, chat and even become friends with authors like you, who I had once only admired from afar.
Thank you! As an author it's wonderful to connect with readers. Your reviews are detailed yet balanced and you navigate your way through that minefield without causing offence. What advice would you give to others wanting to write reviews?
Thank you Helene, that is sweet of you to say. Writing reviews is tough, it often takes me as long to write a review as it does to read the book.
My goal with each review I write is to share my view of the novels strengths and weaknesses in terms of plot, characters and writing style, supported by evidence. I am honest, but try to be diplomatic and stay respectful of the author. I share both what I think and what I feel.
Reviews are entirely subjective, I can only respond to a book within my own frame of reference, which may be completely different from someone else's, and it's important for authors and readers to keep that in mind when they read any review.
I write reviews because I love reading and I love talking about what I am reading. and if  you do, then you should share a review too!
I need more hours in the day but it is wonderful to be able to share a discussion about a story with other people. I really have to write a review about Malla Nunn's latest story – Silent Valley – because it's still very vivid a week after I finished it!
Thanks for chatting today, Shelleyrae, and I look forward to discovering more wonderful authors through your blog.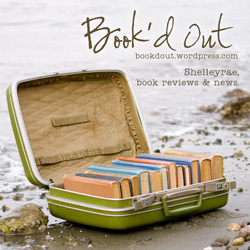 Find Shelleyrae at:
Book'd Out Blog http://www.bookdout.wordpress.com
Facebook: http://www.facebook.com/BookdOut
Twitter: http://twitter.com/bookdout
Goodreads: http://www.goodreads.com/user/show/1607230