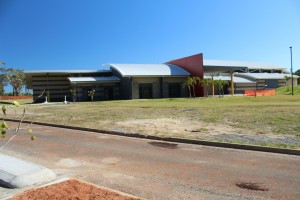 Ever heard of a 'wet jocks' competition? No? Neither had I until yesterday, but apparently they're as much fun, only different, as a 'wet t-shirt competition.'
When I made the long trek north to Cooktown to run a one day writing workshop for Queensland Writers Centre I was expecting to meet some interesting people and enjoy myself.
Instead? I have never laughed so much during a workshop. We had wet jock competitions, an eye-opening conversation about the very real dangers of aggressive gay camels, ghosts, murders and general mayhem. An alarming number of chainsaws kept popping up in the writing exercises and we even had a house that was really a helicopter. Added to all that was a fourteen year old young lady whose writing moved me to tears.
Thank you to everyone who attended for giving so generously of yourselves and your ideas. You made my weekend! We'll have to do it again next year.
Even the venue was exceptional. We were in the newly completed multi-purpose Events Centre. It's a sports hall, conference centre, gymnasium, auditorium and most importantly a Category Five Cyclone shelter that's come together through the cooperation of not just the community but many government departments. A very big thank you to Sgt Howard Pratt for looking after us so well. As part of the PCYC he's the perfect example of why community policing should have an even bigger role in our communities.
I can't wait to head back north again and spend some more time in Cooktown. There's a story waiting to be written in this frontier slice of Queensland.