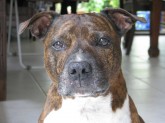 Well now isn't this fun! Helene's crook in bed with a dreaded summer cold (kept me awake half the night coughing and carrying on. You don't see dogs behaving like that…sniff..)
Anyway, the thing is she left her computer turned on and within easy reach. Seems typing isn't as hard as I thought it would be with an arthritic shoulder – just goes to show what you can achieve if you put your mind to it. I thought since she's been pretty busy with flying recently I should help out and put up a blog (see, I've even got the lingo right!).
It took me a while to think of a topic. I mean a dog's life in this family is pretty cruisie – sleep, walk, eat, swim, eat some more, sleep some more, walk some more, humour the humans, sleep some more. It wouldn't make for a compelling post and I hear that term bandied around a lot so compelling must be important.
I even looked it up in the dictionary – compelling :
Evoking interest, attention, or admiration in a powerfully irresistible way.
Not able to be refuted; inspiring conviction
Well, I'm irresistible – they tell me that all the time  -and other dogs do admire me, but I'm not sure I inspire conviction. Hmm… I decided to check out the newspapers for inspiration. Helene spends way too much time reading them, much to GW's disgust, so there must be something in them.
You know what? I was horrified! Talk about doom and gloom. There were murders, riots, bombings, political intrigue, and aid workers caught up in wars when all they're trying to do is help people. Dreadful! But you know what was worse?
Some bloke in Tasmanian ordered cocaine then tried to pin it on his dog! True story – here's the link to the ABC (see, I'm getting pretty good at this typing lark 🙂 ) http://www.abc.net.au/news/2012-09-27/nightclub-owner-jailed-over-cocaine-deals/4282862.
The man's clearly a bozo, but the worst part is the judge let him off! Why? Because the judge wasn't sure that the owner could really be charged with trafficking if the coke was sent to the dog!
Now I've been around long enough to know that dogs don't do that stuff. It's wrong, just plain stupid, to think the dog would have set up the deal and had it posted to his home address. For crying out loud. You'd only need to leave the package under a tree and the dog would find it so why would he bother posting it home knowing full well he'd be caught?
Sheesh… I worry about you lot sometimes. Time for a nap… This compelling lark is harder than it sounds…
Ciao for now..