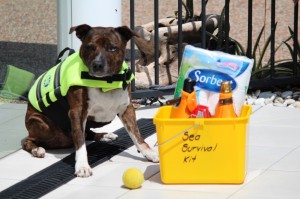 Hi everyone, it's me, Zeus. They've left me home alone so I thought I'd jump on the computer and take the opportunity to wish you all the very best for the coming year.
It's all a bit frantic in the house at the moment – visitors, cooking, cleaning, more visitors, going visiting, extra cooking, wrapping, cleaning… Every year it's the same and I used to wonder why they bothered, but you know what? Despite all the manic rushing there's definitely more laughter in the house than usual. There's singing (and it's a blessing I only have to endure that once a year…), the guests all shower pats on me and I dutifully lick their knees in return. (I know they appreciate that because they all giggle 🙂 ) There are more hugs being shared around, more snacks, more smiles, more of everything really.
Right now there's a chicken in the oven and a glazed ham on the bbq. This year they're going for the cold spread – apparently they think eating a roast lunch in 33 degree heat with 90 percent humidity would be overwhelming… The fridges are bursting at the seams and the divine smells that drift down to me every time a door opens are tormenting!
Friends who I've known since I was a puppy dropped around last night and bless them for their thoughtfulness. Knowing that the boat Helene promised GW for firstly his birthday, then secondly Christmas hasn't eventuated they kindly brought the next best thing. A Sea Survival Pack!! How cool is that!
I'm not sure that the French champagne or toilet paper will be much use to me, but I appreciate the chocolates and the thought behind it. GW said we needed to test it out in the swimming pool, but thankfully another friend turned up before he could launch us all into the water! Saved by the pop of a champagne cork 🙂
So may your Christmas be full of wonderful friends, your favourite relatives and much love and laughter. It is a time to reflect on what's gone and a time to dream of the future. On that note I'm off for a nap.
See you all in 2013!