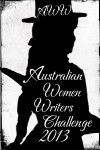 I have a cunning plan this year to ensure I list all the books I read as part of the AWWC 2013. Simple, really! As I read them I'm going to post something about them.
These won't be rated reviews as I'm way too close to many of the authors and I know I'm incapable of being that impartial. I'd give them all five stars as I know how much effort goes into writing our stories.
What I will give you is a sneak peak and a recommendation of who I think would enjoy the book (this idea is shamelessly stolen from Kat at Bookthingo 🙂 )
The first two books have quite similar settings, focusing around small towns with pubs at the heart of them. But they prove the adage that there are no new stories just fresh ways of telling them. Both these writers are talented wordsmiths who bring their characters to life in very different ways.
So first off the rank is "MAN DROUGHT' by Rachael Johns. We meet Imogen and Gibson in the small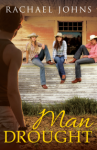 town of Gibson's Find where Imogen has impulsively purchased the old town pub. This is a high quality romance set in the Australian outback. The dialogue sparkles, the setting is believable and the themes behind the banter are universal. I love old Charlie and his struggle to stay master of his own destiny. Forgetfulness, dementia and the sidelining of our older generation are all things I deal with as my own mother approaches her ninety-first birthday. Perhaps that's why Charlie resonated so strongly with me.
Who will love MAN DROUGHT? Anyone who loves a good rural romance, a happily ever after and some great touches of humour.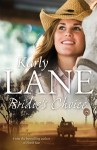 Next is BRIDIE'S CHOICE, by Karly Lane. We meet Bridie and Shaun in a classic case of love from the wrong side of the tracks. Bridie's father is in prison for drug dealing while Shaun's family is the local squattocracy. It's an age old dilemma, but one that Karly Lane weaves through a convincing storyline.
She also touches on the pressures of farming and the heightened danger of depression and suicide. The dialogue and characterisations are strong with never a misstep.
The story stayed with me long after the covers were closed.
Who will love BRIDIE'S CHOICE? Anyone who loves Australian stories and anyone who loves to see the under dog succeed.