Please welcome today's special guest, Jenn J McLeod, debut author of House for all Seasons! I'm delighted to have Jenn visit today as she's been a writing buddy on this journey for quite a few years now. I was lucky enough to receive an advance copy of her wonderful novel (thanks, Jenn 🙂 ) and it's a beautiful rich read with characters who will stay with you long after the covers are closed. Check out the bottom of the post for details of a giveaway!
So without further ado here's her hilarious post on some of the critters in House for all Seasons – Jenn, take it away!
How I made House for all Seasons a home – Part one.
Just as a house is not a home without an animal or two (or three), a novel is not a story without a feathered or furry faithful friend. Animals not only feature in House for all Seasons, they star – well, I think so. (Helene knows how much I love dogs. I even have a special B&B for people who travel with their pets.)
Creating fabulous furry support characters demands the same sort of thought, energy and love as my people. But while my human characters are fictional, my animals are often inspired by real-life versions (which is fine because they can't read, therefore they can't sue me or not talk to me when I get them wrong!)
Let me introduce you to the cast of canine characters from House for all Seasons.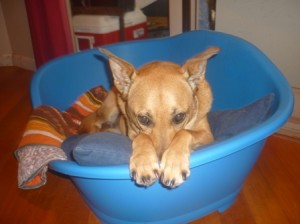 Karma – the dog, not the philosophy: spoilt a little, loved a lot, the brown-spotted, shorthaired slobber-guts stole Cait's heart the minute the dog smiled at her from behind the razor wire at the dog shelter. (Okay, so not quite razor wire, but it might as well have been.)
Karma is a blend of the best: a dash of dalmatian, a bit of border collie, a lot of sass.
Find him: in Part 4: Wynter's Way
Owned by: Dr Caitlin Wynter
Inspiration: Meet the sassy real-life – 'Karma' (thanks Shayne Sands) playing hide 'n' seek, then resting after a big day. I blended Karma with a little 'Bob the smiling dog' (thank you Annie Seaton) to make Cait's very lovable 'Karma'.
Shrapnel: the pain in the arse that won't go away.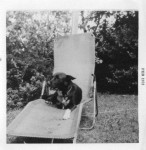 Find him: generally stuck right by his owner's leg in Part 2: Tall Poppy
Owned by: curious old caretaker and Vietnam Vet, Eli.
Inspiration: Just love that name and the line! But also, far from a pain in the arse, my inspiration came from the first family pet I remember – Pepe. What a great dog and in good company up there in 'Afterland'.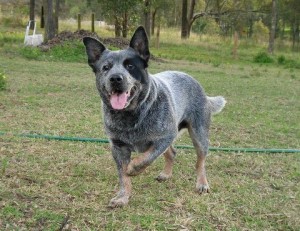 Blue: a cattle dog, of course!
Find him: making mischief with Karma in Part 4: Wynter's Way
Owned by: the equally mischievous Alex, town vet
Inspiration: He's a randy thing (the dog, not the vet), although he is a lot of fun (the vet, not the dog), if not a little too fond of the girls (the dog not the vet).
(Excerpt – with Caitlin none too happy about Karma fraternising with Alex's dog, and the excessive tail wagging and bum sniffing Karma seems to be enjoying!:)
'Hey, Blue, I've told you before to watch out for city girls, or you'll have yourself a sweetheart quicker than a fly in a beer.'

Caitlin shuddered, never so delighted she'd had her dog de-sexed.
As for the vet…?
Ah ha! Read the book and find out. You might just be surprised!
(Oh, and in real life, Rexy the blue heeler (pictured) belongs to Belinda Parker – thanks Belinda.)
Rocky: the Axolotl – okay, so not a dog – exactly, but bear with me.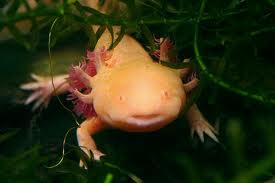 Find him: in Part 2 – Tall Poppy
Owned by: Poppy Hamilton – tough, ambitious journo.
Inspiration: I needed a pet that would be the perfect match with Poppy.
(This excerpt might explain):
Poppy would have liked a loyal companion, one who loved her unconditionally, never asked too much and never argued back. Two years ago, she'd settled for a more practical pet, one the little girl in the terrace next door to hers could look after whenever Poppy travelled. Not this trip, though. For the first time in his soggy little life, Rocky the axolotl sloshed around on the passenger seat.

Destination—Calingarry Crossing.

Poppy liked that Rocky was different.

A fish with legs.

An underwater lizard.

A rare and special survivor of another place and another time. Kind of how she'd felt growing up in Calingarry Crossing. She felt the same going back today.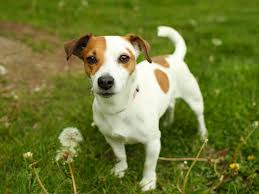 Jackpot: The rascally Jack Russell
Find him: in the pub! err… I mean in Part 4: Wynter's Way
Owned by: Maggie – the publican
Inspiration: This Jack Russell is so darn cute (not to mention quirky) he made it into book two as well! Just wait till you read how he amuses the pub's patrons. (And look at this picture. He's about to blow on the dandelion wish. Told you he was cute – and clever.)
And the final dog…
The Hot Dog and the Dagwood Dog
Part 3: Amber Leaves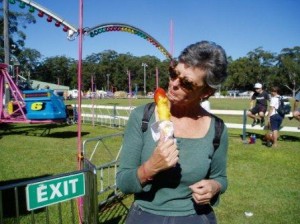 Inspiration: Okay, so they're not dogs in the true sense, but if nothing else, my stories are authentic and well researched. (There is a Calingarry Crossing Easter Fair and an eat-everything-on-a-stick challenge so…)
But wait, there's more…
Don't miss Jenn's 'How I made my House for all Seasons a home – Part Two', featuring the country critters. Find it at Fiona Palmer's great blog on 11th April. Wait until you meet that motley mob of irresistible misfits from House for all Seasons!
And because I've loved reading this book so much we're going to give a copy away to one lucky commentor.
All you have to do is share your favourite animal character from a book to go into the draw! I can think of a dozen furry characters who've starred in novels 🙂 Competition closes on 1st March and we'll announce the winner here and on Jenn's blog!
Come home to the country with Jenn: www.jennjmcleod.com

Facebook Author page: /JennJMcLeod.Books
Twitter: https://twitter.com/jennjmcleod