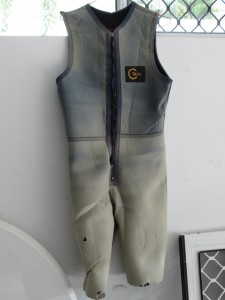 We're doing a bit of a clean out today and hiding in the bottom of one of our sailing bins I uncovered GW's wetsuit. It's a tatty old thing that 37 years ago was state of the art neoprene – a newfangle fabric regarded with a high degree of suspicion. At the time GW was into waterskiing (long before I met him), but it's seen a lot of action since.
It's been sailing in the UK in the middle of winter (competing in the Plum Duff races on boxing day with or without the ice), surfing at Currumbin Beach, diving on the Great Barrier Reef, snorkelling in the Whitsunday and racing beach catamarans in North Queensland. Along the way it's been patched and had its knees chopped off because they were past the point of repair. Its zipper died and no one was prepared to try repairing so I stitched velcro into it instead. It's faded from royal blue to grey.
More amazingly GW managed to squeeze himself into it! Zeus was on hand to administer mouth to mouth if required but no, GW even looked a bit like the young guy with great shoulders that I married.
And so the wetsuit has been given a reprieve. It's going to head south with us and will hopefully do some sailing up the east coast of Queensland. The funny thing is I didn't realise I'd married a hoarder. Seems GW might have a touch of the sentimental fool in him after all. Makes me all gooey and starry eyed.
Do you have things in your family you simply can't part with because they have too many memories?