It's easy to think that a strong sense of community only exists in small towns in rural and regional places, but in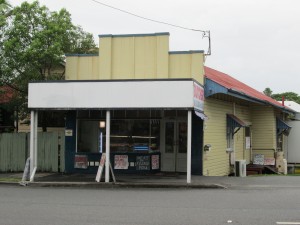 recent weeks I've been reminded that communities spring up where ever they are nurtured.
Those of you who are regular visitors to my blog know that GW, Zeus and I are embarking on a sea change – and we're jumping in boots and all. As part of the process we're been visiting my mum, who lives in East Brisbane, almost in the shadow of the famous Gabba Cricket Ground. Our family home was bought by my grand mother somewhere over one hundred years ago so there have been many changes in the area since Dad was born in the front bedroom. It used to be rural – the house was part of a dairy – and now it's inner city with noisy streets and many more neighbours.
Close by is the East Brisbane Community Centre with its op shop and after school care. The local pharmacist delivers Mum's prescriptions, at no extra charge. When I rang Home Assist about some repairs that needed doing, a couple of lovely retirees turned up for a chat and a cuppa and solved all the problems. Leon's Dry Cleaners is still there fifty odd years later. They may be a lot more up market than they used to be, but the smell of warm dry cleaning fluid transported me back to my childhood.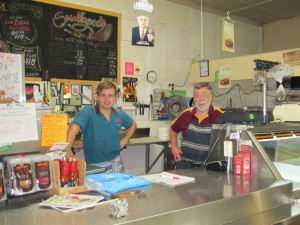 Right beside Leon's on busy Stanley St is a butcher's shop. It hasn't changed. I walked in the door and felt as though I'd shrunk back to being a school girl asking for 'four middle rashes of bacon, rind on.' The butchers themselves were different, although they seem to have a customary no nonsense stance about them, with brawny forearms and wide smiles. The bench at the back still held up the wall, the uneven sloping floor tilted me towards the display cases that seemed oh so familiar. The meat's gone gourmet and the cuts have changed but otherwise the lads were in for a chat and happily posed for a photo.
Down the lane from Mum are some truly wonderful neighbours – Cheryl in particular – who keep on eye on her, bring in her rubbish bins, pick up her newspapers and drop by for a chat.
It made me all teary that in the middle of the hustle of a big city there are pockets of people living simply, in community and looking out for each other. It suddenly made Brisbane seem small and hospitable again.