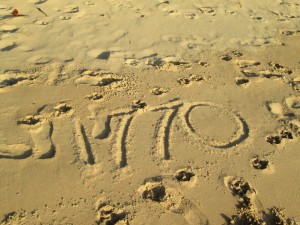 When Captain James Cook sailed his ship The Endeavour into a narrow creek in May, 1770, he had no marker buoys to guide him, no maps to give him depth and no motor to keep him out of trouble. He would have had a man up a crows nest and another with a lead and line measuring the water depth.
Yesterday when we sailed Roo Bin Esque into the channel Captain Cook eventually named Round Hill Creek we had every available modern technology to guide us plus two purring 40 horsepower diesel engines. My heart rate still spiked as we came through the shallows with a two meter sea and the wind at 25 kts abeam us. My admiration for those early mariners increases daily.
Safe habour must have been even more precious two hundred and forty three years ago. This view yesterday was a very welcome sight after the conditions during the day.