Confronted by three hours of motoring to navigate our way through the heavy traffic of Gladstone Harbour there was only one thing to do. Bake bread! And do the washing, charge every battery aboard, along with computers, phones, cameras and ipads. It's been a little cloudy recently so the solar panels haven't been contributing much. Being frugal yachties we made good use of the power from the engines to run all the high load electrical appliances aboard – I was on a mission to see just how much I could use!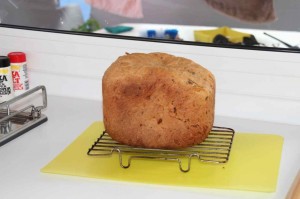 By the time we dropped anchor in Graham's Creek (how could we go past an anchorage with that name) we had fresh bread, clean clothes and a full battery bank. Sadly tomorrow we'll be battling our way back down the channel to the refuelling pontoon in Gladstone as the forecast is getting worse every time they issue one. We figure we should have full fuel and water aboard just in case.
We'd planned to do that as we headed upstream today and pulled into the marina with that intention only to find ourselves being 'queue jumped' by a small vessel which then proceeded to get a wash down and a tidy up while we did circles in the marina. Time was running out to make sure we reached our anchorage so we abandoned the mission and headed out. Can't say I gave them a cheery wave as we left…
So tomorrow will be a writing day for me, a driving the boat day for GW (and a batten down the hatches in preparation for the weather day), and yet again a snoozy kind of day for Zeus (who doesn't care about the weather). Maybe I could bake fruit buns?