I've been busy in the blogsphere while I'll be tracking around Australia and with all the excitement I haven't had time to post the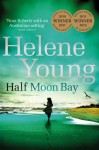 winners from several visits and the Good Read Giveaway for Half Moon Bay.
The winner from Book'd Out's blog was Heidi – the book is winging its way to her letterbox now!
The winner of the Australian Romance Readers Association release day blog is Barbara and Australia Post will be taking care of that tomorrow!
The two winners of the Good Reads promotion were Michelle from Hercules, USA and Gayle from Council Bluff, USA. Their books will no doubt take a little longer to arrive as they have to negotiate two sets of customs officials. Thanks to everyone who dropped by to be part of the discussion – as always it was fun!!