I first met Helen Lacey a few years ago when there was confusion over who was who in a writing competition. I've followed her stellar career ever since and was ever so slightly jealous of her sea change! Today she's sharing her lovely writing space – I can see why she writes her wonderful warm stories set in small towns.
So welcome, Helen, and over to you!
Thank you for inviting me to visit Helene…it's great to be here!
One of the best things about being an author is being able to work from home. Before I started writing full-time I had a busy day job and only crammed writing on the weekend or at night. That altered when we had out sea change a few years ago. Now we live by the ocean, on the east coast and at the most southern point of The Great Barrier Reef. It's a lovely little town with only eight hundred people and I have wonderful view from my office window of both the sea and my horses. When I'm writing though, I usually have to pull down the blind as the view can be something of a distraction to my easily distracted mind.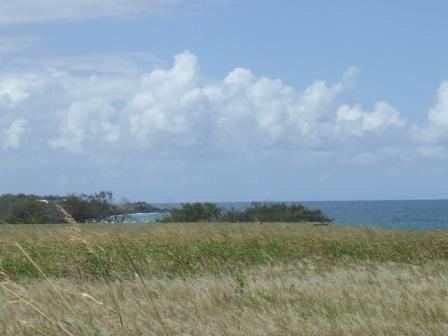 I write most days for approximately six to seven hours and around three every afternoon I switch off the computer and head outside. Animals are a huge part of my life and my 'down' time from writing is usually spent out in the paddock with my horses or taking my dogs for a walk along the beach. Over the years I've tried 'sitting down' things for relaxation (Including one particularly disastrous effort at scrapbooking where I glued the book to the table) but always go back to being outside with the four legged friends. It's where I like to do my book 'thinking'. Plus, there's the bonus of fresh air and er… exercise. I've always found something soothing about being around a horse. This is Zeb, my Thoroughbred, who is wonderfully quiet and trustworthy and just about the laziest horse on the planet.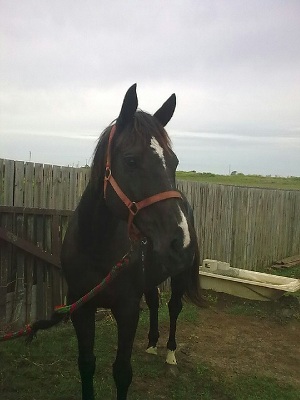 I also like the idea of my little garden. I should say though, that I absolutely do not have a green thumb. I frequently get my veg/herb garden going and always with the help of my father-in-law. I tend to it for a while and when the magic wears thin I tend to neglect it quite heartlessly. But you can see from the picture that when I'm in the 'green' zone it does like to flourish.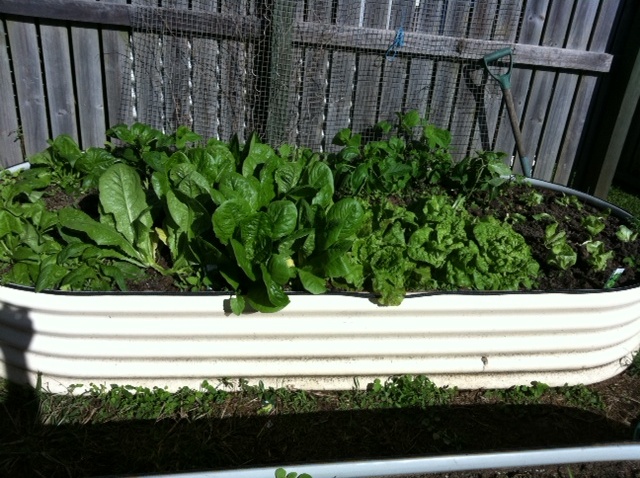 I love hearing about how other people 'relax'. Do you have a favourite spot in your garden? Or run on the beach with a furry friend? Or perhaps you like to curl up with a good book? I have a copy of my August Harlequin Special Edition release, Date With Destiny, to give away to one commenter.
And thanks again Helene, was great to visit!
About Helen
Helen Lacey grew up reading Black Beauty, Anne of Green Gables and Little House on The Prairie. These childhood classics inspired her to write her first book when she was seven years old, a story about a girl and her horse. Although, it wasn't until the age of eleven when she read her first Mills & Boon, that she knew writing romances was what she wanted to do with her life. Her parents' love of travel meant she saw much of the world in those early years and she feels fortunate to have had a diverse and interesting education over several continents.

She continued to write into her teens and twenties with the dream of one day being a published author. A few years and careers later, including motel operator, florist, strapper, dog washer, and retail manager, she got the call from Harlequin Special Edition. She loves writing about tortured heroes, both cowboys and CEO's, and heroines who finally get the love of the man of their dreams. She now works part time in her sister's bridal shop, where she gets to meet fascinating people, some of whom might one day end up being in one of her books.

From Welsh parents and a large family, she lives on the east coast of Australia in a small seaside town at the southern most point of The Great Barrier Reef, with her wonderfully supportive husband, many horses and three spoiled dogs.

Connect with Helen:



Date With Destiny

Financier Grace Preston did fourteen-hour days in New York City. She didn't do small towns in Australia. Not since she'd fled almost twenty years ago. But when a personal trauma sent her home-with a secret she couldn't reveal-the last person she needed was her first love.

Local cop Cameron Jakowski had loved Grace for most of his life. But he wanted marriage and family and she didn't. He was small town, while she was big city-and lived half a world away. But for now she was right here-a walking, talking temptation. One he managed to avoid…until he made one mistake. He kissed her. And reawakened the passion that could change their lives…forever.

Read Reviews

Buy Links