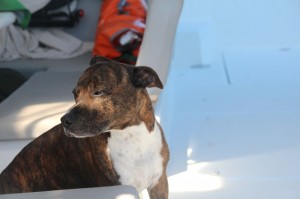 Ahoy me hearties, it's me Zeus, the Salty Old Sea Dog. Capt G and Helene are snoring their heads off after a hectic couple of days. I have no idea why they find night sailing at all tiring or stressful. I thought it was pretty darned cool talking to the US Navy ships last night. And the helicopters and landing craft were excellent value too. Fun stuff 🙂
We had a refuelling stop today and caught up with a lovely lady called Karen who not only brought fresh milk for Capt G, but also spent the whole visit patting me – what a woman!
Right now we're rocking and rolling at Cape Capricorn, which was supposed to be a quiet night anchorage to recoup for the next sixty hour mission, but I can see one us is going to have to stay awake and that looks like it's going to be me. Sheesh, it's hard being the dog in this family….
Anyway, here are a couple of happy snaps – bit different to the tourism brochures Hélène dishes up – enjoy.
Ciao for now 🙂
xxx Zeus