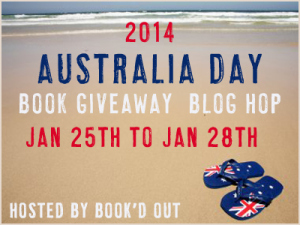 It's the Australia Day Book Giveaway
Thanks to Shelleyrae from Book'd Out for setting up an Australia Day Book Giveaway again this year. Click here to visit the site and find other wonderful opportunities to win books. And what ever you're doing to celebrate it – enjoy!!
So what does Australia Day mean to you? Is it a chance for a long weekend getaway before the kids go back to school? Or is it a chance to get everything sorted before that happens?
Maybe it's time to head to one of the many Australia Day celebrations or have lunch with friends. Do you stop and think about why we celebrate an arbitrary date in January or do you just enjoy the moment?
I'm not big on the public celebrations and having been in aviation for 26 years I haven't often had the day off anyway. But I always stop and contemplate what it is to be Australian. If I were to sit down with my closest friends there'd be less than fifty percent of us who are Australian by birth. I was born in Canada and Capt G was born in the UK. Others were born in Jersey, UK, Fiji and Thailand and USA. Yet we all consider ourselves Australian and that, I think, is the wonderful thing about this country.
It is a melting pot and, with the recent heatwave, that was actual as well as metaphorical! So many cultures transplanted to these southern shores have influenced our food, our fashion, our music and even our literature. I hope that it makes us more tolerant and it certainly makes us some of the world's most travelled people.
The school-leaving rite of passage to head overseas still persists today although the UK isn't necessarily the most popular destinations as young adults head off to visit the land of their parents' birth. Hopping on a plane and flying for twenty hours doesn't faze us. Although when I see the red tail of Qantas aircraft parked by an icy terminal it always sends a little rush of warmth and nostalgia through me.
I think the same spirit that sent our young men off to the World Wars, seeking an adventure as much as justice, still holds strong for today's young people. Maybe it's something to do with being on the bottom of the world, so far from anywhere, that sends them rushing over the horizon.
What ever the reason, I hope Australia continues to grow as a tolerant nation who welcomes new comers, embraces different traditions, but never loses sight of its past.
And for me, the Peter Allen song, 'I Still Call Australia Home,' will always be as powerful as the national anthem.
So to enter my giveaway I'd love to know what songs make you think of Australia? Is it 'I Come From a Land Down Under?',Khe Sanh, or something more classical?
To go into the draw you need to leave a comment by midnight 28th January. I'll announce the winner on the 2nd February.
For Australian Residents you'll go into the draw to win a copy of Bronwyn Parry's wonderful book,'DARKENING SKIES.'
For international readers you'll go into the draw for an e-book copy of Phillipa Fioretti's latest release 'FOR ONE NIGHT ONLY'.
You need to tell me which book draw you'd like to be entered in. And don't forget to visit all the other blogs involved in this great celebration of Australia. Visit Book'd Out's post here for all the links 🙂