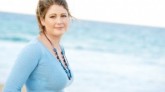 I can't remember who introduced me to Kylie Kaden's wonderful debut novel (maybe Jenn J McLeod??) but I will be forever grateful. 'Losing Kate' is an impressive debut – evocative, real, beautifully crafted and different. I'm delighted Kylie's taken time out of her busy life to visit the blog today and share her writing space with us.
Please welcome Kylie!
Hi Helene, and thanks so much for having me!
I'm honoured to be part of your blog, but also thankful that you've given me one more valid reason to procrastinate from getting stuck into editing (groan). (Please don't use me as excuse to procrastinate, Kylie – I'm wearing enough guilt for the two of us already with my own issues!!)
So…here is my corner of the world.
It may look like a garden variety el-cheapo trestle-desk, but don't be fooled! It's equipped with many concealed weapons, such as matchbox-cars and crayons hidden in boxes. These I find very handy for when my 3yo catches me skulking back to my laptop during Pepper Pig (which usually buys me anywhere between 1-5minutes).
Other notable features include: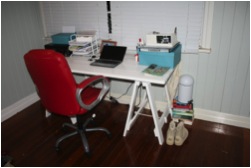 – The Ugg Boots – a middle-class bogan's footwear essential come June.  Who says I don't appreciate a job where I can work-from-home?
–  The printer (rarely used given I worked out each page costs about $5 to print…)
– The bin – to hide evidence of writers-block-induced snacking.
– The wifi router (to be turned OFF when I actually want to seriously write stuff).
–   The WQ – QWC monthly mag (another procrastination option…).
–   The kiddie pics (to remind me to pick them up from school J).
–   The laptop (yes, I know, it looks so teeny it could be a kid's toy, but it is real…and can fit in my handbag for coffee-cart mornings at the library.) I have worn down the space bar though so its days are numbered…
It even appears clean-ish, like I'm a together-looking professional, don't you think? (I should have taken the picture before I slid the chocolate wrappers and tea-stained mugs out of view. I'm just not silly enough to put the filthy truth on the internet).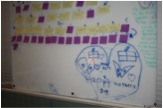 And, here is a closeup of my secret weapon of mass deconstruction: the whiteboard (ignore the graffiti at the bottom – my son drew that for me on mother's day and I didn't have the heart to rub it off…).  As with my first book Losing Kate, my second is also a mixed up ball of back-and-forths (probably to a lesser extent).  I'm a big fan of coloured post-its at the structural edit phase (to depict POV changes, time-warps). Handy if you don't have a linear/straightforward story arc. The example here has a square for each chapter, with the main goal of the scene so I can assess the big picture/linkages. I then start rearranging, pulling off those that don't really need to be there (the scenes just for me, to write myself into the story more than essential to moving the plot forward). I'm sure there's software to do that, but this works for me.
But to be honest, most of my writing happens elsewhere; in the kitchen while burning risotto, on the wet-bench at swimming lessons, on an old receipt in the train home.
That's the beauty of writing isn't it – it happens in the corners of your life.
Lovely chatting to you Helene!
Thanks for sharing, Kylie, I think I'm definitely suffering from white board envy after you and Cathryn Hein! I'm also hanging out for your next book!!
You can find Kylie and all her contact details, including Face Book and Twitter, on her website : www.kyliekaden.com.
LOSING KATE.

"I'm the most authentic version of myself when I'm around Jack. We've known each other since we were kids, and our relationship was always one of mudpies and mocking.

Then everything changed.

Beautiful Kate, my best friend, disappeared on a moonlit beach after Jack dumped her for me. Jack was a suspect and, sure of his innocence, I lied to protect him. I know Jack didn't kill her. Our betrayal did.

Thirteen years later, I am thirty, childless and single, attempting to renovate my life rescuing a rundown worker's cottage. All is as it should be in my safe little world – until Jack buys the vacant lot behind my house… and the feelings that we buried all those years ago – the guilt, the love and the pain – resurface.

We can't keep running away from the past – and to move forward we have to know what really happened to Kate."

About Kylie Kaden

Kylie Kaden is a self-diagnosed bookworm and recovering chocoholic. Raised in Queensland, she spent holidays camping with her parents and two brothers at the Sunshine Coast, where much of Losing Kate was set. She now lives in Brisbane with her husband and three young sons. As the only female in a house of males, Kylie tops up her sanity by writing whilst her youngest naps (and the washing mounts). She is adamant the next addition to the Kaden household will be female…and canine.

Kylie graduated with an honours degree in psychology from Queensland University of Technology in 2000, but cites it helps little with meeting the challenges of parenting in the real world. She shares her frazzled parenting experiences in her regular column in My Child magazine, and is a strong advocate for telling it like it is when it comes to the struggles (and joys) of raising kids.


Kylie knew writing was in her blood from a young age, using her brother's Commodore 64 to invent stories as a child. Her current novel took shape as she drank tea at the kitchen bench, often with a toddler on her lap and ABC Kidschirping in the background.

Kylie considers being a novelist the best job in the world – what other occupation lets you wear Ugg boots to work and make things up for a living?

Losing Kate, a Women's Contemporary Novel is available now at Big W, Angus and Robertson, Bookworld, and QBD.