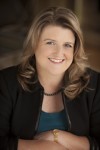 Today's guest is the inimitable Cathryn Hein. Her wicked sense of humour, passion for golf, and obsession with a bunch of grown men wearing red and white tight shorts, makes her stand out from the crowd. I love hanging out with Cathryn and Rachael Johns at RWA and ARRA events – and if you want to read a feel good story about writing buddies check out Cathryn's blog post about the two of them on Rach's site. (And I have to sneak in a mention of Rach's new book, Outback Blaze, which is on the shelves now as well!)
But back to Cathryn – her latest story, Rocking Horse Hill, is out and about garnering wonderful reviews in the blogsphere, but she's still found time to drop by and share a glimpse of her writing space. So, over to Cathryn 🙂
My Writing Space – Cathryn Hein
Thanks, Helene, for inviting me to your blog to talk about that most important of rooms, and I don't mean the loo!
I admit to being very lucky with my writing space. I have an entire room at my disposal, all kitted out with everything a writer could need (except perhaps a spectacular view like what Helene enjoys). (Ah yes, my beautiful view 🙂 )
I have a large workstation, a freaky-looking but wonderfully back friendly office chair, whiteboards (oh, how I love whiteboards,) including a giant one on wheels, a computer, printers and scanners, a wall planner, and what writing space wouldn't be complete without a putting mat? (I'd like to see that fit aboard Roo Bin Esque!)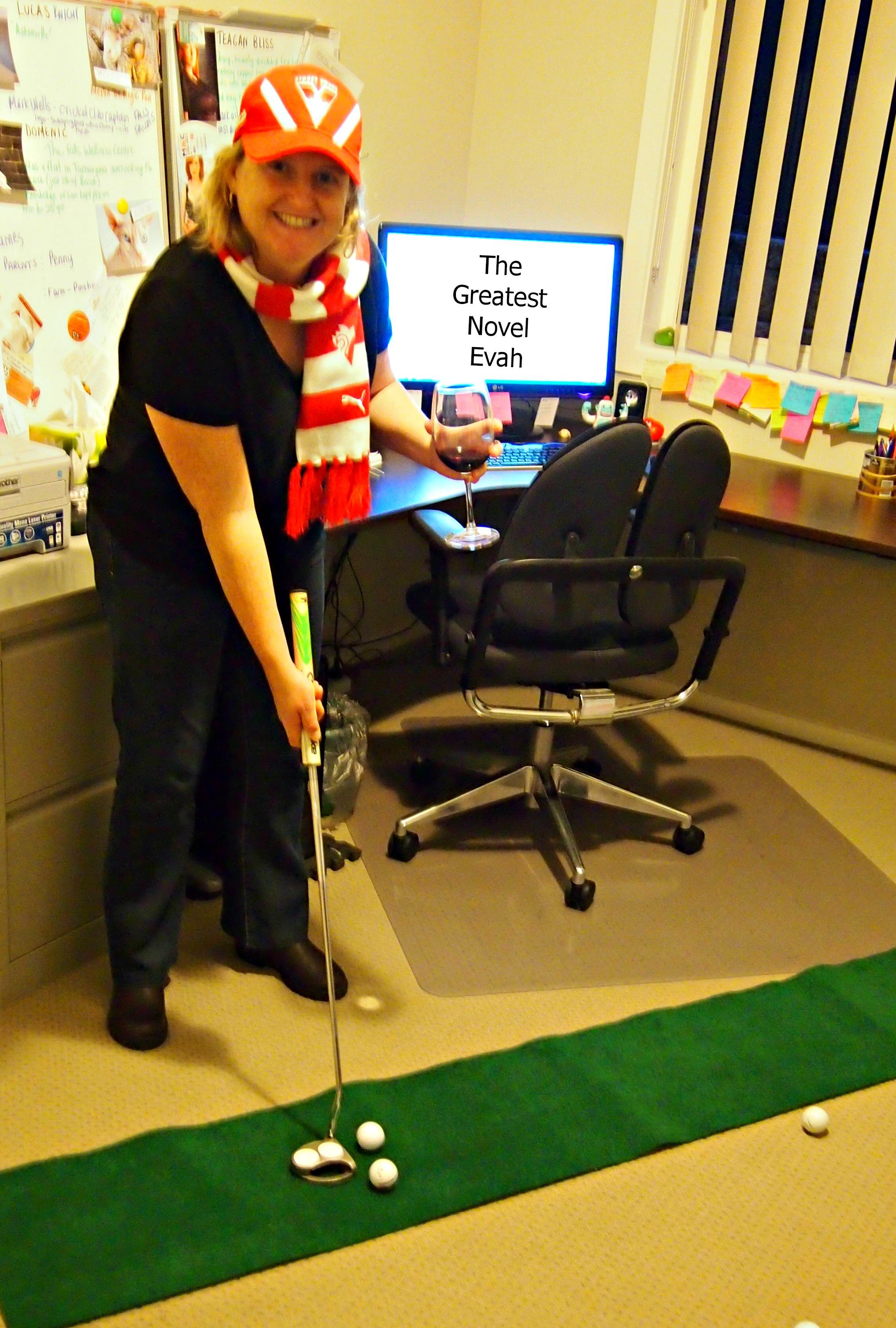 As you can see, the area is perfect. I swan in around 11 am each morning, type a couple of words into The Greatest Novel Evah, nurture my muse with wine and a few mind-clearing putts, before knocking off at 12 to spend the remainder of the afternoon reading or rewatching Sydney Swans AFL Grand Final victory DVDs for hero research. (That's those men in red and white with their shorts about two sizes too small – magnificent!!)
Convinced? No? Aww, come on. Surely, you believe me?
Huh.
No, well I suppose I wouldn't either. The above simply doesn't happen. Somewhere between 6-30 and 7 am I stumble to my office in my trakky daks and t-shirt, spend the next 8 hours believing I'm writing The Worse Novel Evah  and wondering why the hell I ever thought I could do this.
THIS is more what my writing space looks like mid-book. Me slumped in despair, biscuit and cake crumbs in every crevice, papers and sticky notes scattered like confetti, a box of tissues on standby for when things get really bad. (What no chocolate???)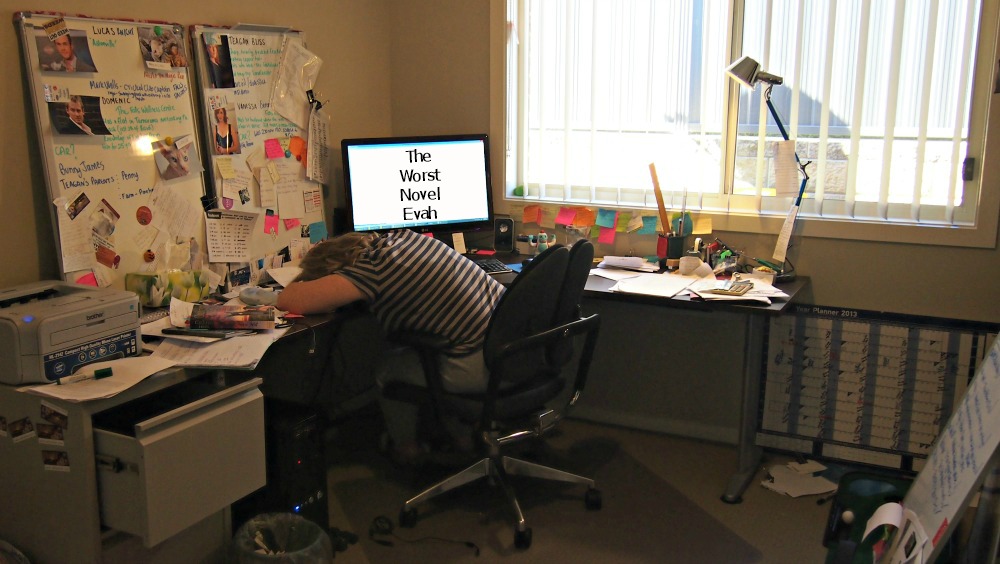 I actually hate mess. I'd much rather be organised and tidy, but for some reason the office trend is toward chaos. I have flurry days where it all gets too much and I ruthlessly put everything into order. Then, slowly, it degrades again. This goes on until the book is finished and I can finally stack everything into a nice rubber-band wrapped package and file it away.
Right now that time seems a long, long way off. Rocking Horse Hill has just released and I'm deep into the second draft of The Falls, my next rural romance. Salvation from chaos will have to wait. Nevermind. I'll just have to tell myself that it's all a part of my creative cycle, and one that must be nurtured.
Not a bad excuse to get out of housework, is it?
Ha, love it! Any excuse to get out of housework indeed! Capt G is stuck with cleaning duties on Roo Bin Esque… Cathryn, thank you for another witty insight into your world. 'Rocking Horse Hill' is at the top of my TBR pile while I finish enjoying Jenn J McLeod's wonderful, 'Simmering Season.' I'm looking forward to reading Emily and Digby's story!! Can't wait to catch up at RWA 2014 in Sydney this August.
You can find Cathryn at:
Her Website

Follow her on Facebook

Tweet her on twitter @CathrynHein

Grace her circles in Google+
Check out her new book, Rocking Horse Hill, available at all good bookstores and e-retailers.
ROCKING HORSE HILL

by Cathryn Hein

Who do you trust when a stranger threatens to tear your family apart?

Ever since she was a little girl, Emily Wallace-Jones has loved Rocking Horse Hill. The beautiful family property is steeped in history. Everything important in Em's life has happened there. And even though Em's brother Digby has inherited the property, he has promised Em it will be her home for as long as she wishes.

When Digby falls in love with sweet Felicity Townsend, a girl from the wrong side of the tracks, Em worries about the future. But she is determined not to treat Felicity with the same teenage snobbery that tore apart her relationship with her first love, Josh Sinclair. A man who has now sauntered sexily back into Em's life and given her a chance for redemption.

But as Felicity settles in, the once tightly knitted Wallace-Jones family begins to fray. Suspicions are raised, Josh voices his distrust, and even Em's closest friends question where Felicity's motives lie. Conflicted but determined to make up for the damage caused by her past prejudices, Em sides with her brother and his fiancée until a near tragedy sets in motion a chain of events that will change the family forever.

Rocking Horse Hill is a moving family drama and passionate love story from the author of Heartland.