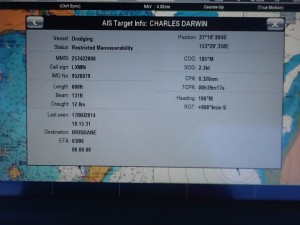 So what does Charles Darwin have to do with building the new parallel runway in Brisbane?
It's the name of one of the world's largest hopper dredges which is currently improving the depth of the East Channel leading into the Port of Brisbane. In 2 – 3 hours it fills its 30,500 cubic metre hoppers and then sails back to Brisbane to pump all of that sand onto the new runway site. It's a win-win situation as Brisbane's main shipping lanes aren't all that deep and constantly silt up. And the runway needs a vast amount of dirt to build it up by 3 metres, the height necessary to avoid flooding through either a one in a hundred year event or predicted sea level rises.
The Charles Darwin is a three year old vessel registered in Luxembourg and works all over the world on similar contracts. We sailed past her today (at least I think she's still a 'she' even if she has a bloke's name… Just one more confusing aspect of English!) so I had to take some photos. She'll be in position for 12- 18 months. The land will then need to settle before the construction can enter its next phase.
If you're over towards Tangalooma give them a wave 🙂