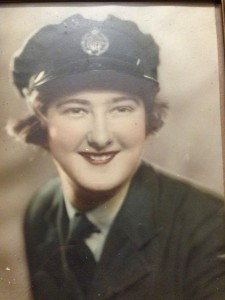 Mothers and daughters don't always have an easy relationship, but Mum and I were close. She adored Capt G, even while he continually played tricks on her and she loved it when he cooked her dinner. She also loved seeing Zeus and would be the only person who liked him licking her knees!
Mum's been frail for some time, but was adamant she wanted to stay at home. I'm so glad that we could make that happen.
She was a daughter, a member of the WAAF, one of the founding Methodist Deaconesses, a wife, a mother and a grandmother. She enjoyed music and singing. She loved to watch cricket and tennis and golf (she disliked Shane Warne and loved Mr Cricket, detested Leighton Hewett, wished Raffa Nadal would buy better underwear and thought Rodger Federer was the ultimate sportsman.)
We never managed to get her aboard Roobinesque, but she did suggest we could try hoisting her in the bosun's chair. I was too terrified of hurting her to try that little caper, but I wish we'd been able to take her sailing.
She and I frequently 'won' Who Wants to be a Millionaire and she was still enjoying her crime shows on TV right to the end. She was also still arguing with politicians when they appeared on the nightly news as well – lacking an opinion is not in the Millett/Young genes!
She and Dad instilled a love of reading and of stories in all of us and I wish she could have made it to the release for Northern Heat. I know she'll be there in spirit. I'm grateful that I've had the last couple of years in Brisbane with her and that helped to make letting her go easier for me.
I have so many memories swirling around and I know when it comes time to pack up her house there will be even more. 93 years of life can't be distilled into a blog post, but I will miss her and no doubt she'll crop up in a story or three in the future.
Go lightly, Mum, and give Dad a hug for me.
xxx
Helene