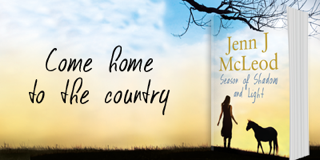 I'm delighted to welcome Jenn J McLeod to my blog. Last week she hosted me as part of my pre-release tour. This week it's my turn. We're kindred spirits and her post really resonates with me so I hope you enjoy it too!
Please welcome Jenn.
As the title tends to suggest, Season of Shadow and Light is a story about opposites, unlike you and I who are alike in lots of ways and share a few things in common:
We both love sunrises and sunsets.
We are both adventurous (although not so much when it comes to heights for me!)
We've been book release buddies, with our new releases coming out around the same time each year. (And I am hanging out for some Northern Heat at the end of the month – in more ways that one as we hit the road and head to Queensland!)
But you and I share another special connection.
I'm talking about a deep understanding of the seasons, respect for Mother Nature, and an appreciation of a solid bricks and mortar home! Like you and Capt G selling up to sail the seas on Roobinesque last year, I hit the highway in Barcoola—a 24-foot fifth-wheeler caravan—in search of more small town inspiration.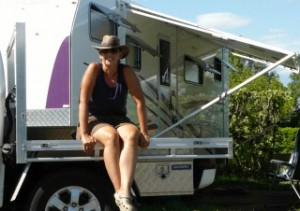 For you and I now, life on the road (or on the ocean) means our days are influenced by the seasons. Our writing style is too. I wrote a good part of Season of Shadow and Light anxiously waiting out each terrifying weather event last storm season presented. (I reckon Maggie Lindeman, from Simmering Season, was getting back at me for all I put her through!) Without the perceived safety and security of a bricks and mortar around me I am even more in awe of nature's many facets and contrasts: dark and light, heat and cold, cyclonic and still!! (I wrote this blog post in the caravan in northern NSW, sitting through the fallout from Yeppon's TC Marcia.)
Season of Shadow and Light is my third book and like both previous novels nature and the seasons played a prominent part in the story's development and the setting. For example: House for all Seasons follows the journey of four women, each as different as the seasons who, estranged since leaving school, are forced to return a season each to the small country town of their youth. In Simmering Season my characters face a storm season that blows the lid off a lifetime of secrets.
So, yes, it's the contrast in our seasons that inspire me. Contrast is what characters need and contrast helps create great conflict. (And characters and conflict make great stories, like the difficult and life changing decisions in Season of Shadow and Light.
Having left Calingarry Crossing behind in books 1 and 2, readers will meet Paige and her six-year-old daughter, Matilda. With Nana Alice in tow it is three generations of women taking a road trip together, only to find road closures detouring the trio to the tiny country town of Coolabah Tree Gully. With unprecedented rainfall closing roads and threatening flood, there's a publican with an uncanny resemblance to Mr Magoo, a cranky cook battling a broken heart, and two women: one—a mother on a personal mission, while the other is burdened with a dead woman's secret and a promise to never tell . . . even when the truth might help the living.
Season of Shadow and Light is a story of secrets and love, of family loyalty, and of trust—the kind that takes years to build but only seconds to wash away.
Sometime this season…
The secret keeper must tell.
The betrayed must trust.
The hurt must heal.
I am very excited about this 3rd novel for so many reasons, particularly after receiving this early review quote:
"Jenn J McLeod is an author for all seasons  . . .  and all readers." Shelleyrae, wwwbookdout.wordpress.com
Thank you for hosting me today, Helene. I totally loved having you at my place last week for my #WriteRoundOz Author Series. In fact, readers can find our get together fun here : WriteRoundOz
WIN – BOOK PACK GIVEAWAY

For your chance to WIN all THREE Jenn J McLeod novels* simply leave a comment below. From now until the end of May Jenn drops into some of her favourite author blogs to say hello to readers old and new. She'll then collect the comment names from each author blog post, picking a lucky winner from one major draw and announcing the name end May on her blog.  www.jennjmcleod.com

If you'd like to find out more about Jenn and her contemporary women's fiction about small towns keeping big secrets, head on over to her website or, like me, follow the Facebook and Twitter fun.

Website:   www.jennjmcleod.com

Facebook: https://www.facebook.com/JennJMcLeod.Author

Twitter:     @jennjmcleod

*Book Pack: House for all Seasons (#5 Top Selling Debut novel, 2013), Simmering Season, and Season of Shadow and Light. (Australian postal address only)