So today was the day I was reminded that my fitness has plumbed new depths… Not only do I have half a wardrobe full of clothes I can't wear, but apparently cycling 10 kms there and 10 kms back again is arduous!
Capt G announced he was cycling to Stocklands at Pialba. What a great idea – a new level of procrastination, I thought. So off we set along the foreshore on a balmy winter's day. I can see why so many people choose to live in Hervey Bay. The sea is azure, the sand white, the temperature pleasant and the locals are friendly.
It only took 30 minutes to get to Stocklands then another 15 minutes to track down the Post Office – and that was a whole adventure by itself. They had self-check in parcel post! While I hate to see jobs disappear, one look at the snaking queue convinced me to give it a go and what a delight it was. Of course, I'll be even more delighted when the parcel safely arrives in the Northern Territory.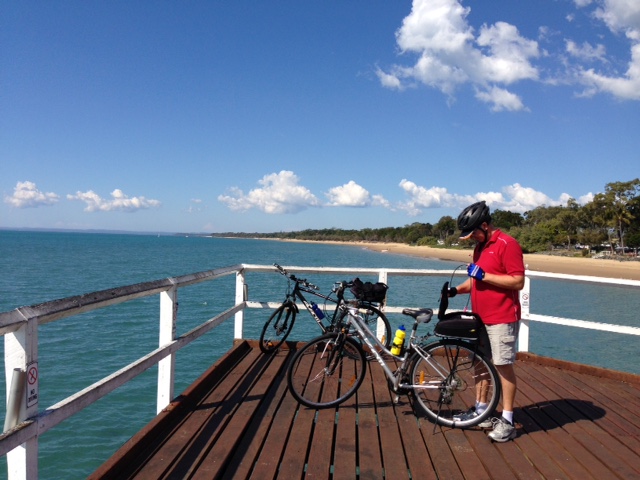 We finished our shopping, loaded Capt G's bike up to the max and set off home, my hair now wafting in the sea breeze… Uh oh… What had been at our backs was now in our faces. By now it's 1.30 and breakfast was a long time ago and my stomach was grumbling. I tried some delaying tactics – suggested little side trips so I could take photos and have a breather. By 2pm my head was wobbling and Capt G was disappearing in the distance. Thankfully he eventually realised he'd been talking over his shoulder to old guy, who'd over taken me with a cheery wave, and not to his wife.
He found a bakery, filled me full of meat pie and Bundaberg ginger beer and I made the rest of the journey home where I promptly sank onto the bunk and slept for an hour.
And for all that pain, according to my Fitbit device I only managed 41 minutes of exercise! The sunset was a very welcome distraction from my aching muscles!