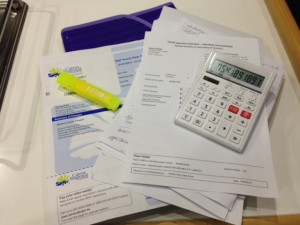 Every year I vow I will be more organized. Every year I start the way I mean to go on. Every year I fall by the wayside…
Then the alert sounds on my calendar and I realise the appointment with the accountant is a couple of weeks away. Luckily our accountant is a lovely lady who understands human frailty, but…
I start hunting down stray receipts, trying to remember what I would have called the documents as I scanned them into our paperless system aboard Roobinesque. Did I put them under a folder name 2014/2015 tax? No, that would be too sensible… How about Tax Returns 2013/2014? Got them! Oh no, wait… I think we've got both years in there…
Capt G goes through Paypal, discovering receipts for impossibly small quantities of moisturiser with exorbitant price tags. I waste ten minutes trying to convince him that my laugh lines would be much more pronounced without them. (I eventually give up because he's laughing so hard…)
The Amazon and iTunes receipts make a spectacular list. Did I really buy all those e-books? Well yes, it seems I have and that may explain why the wi-fi data took a hit a couple of months ago.
I start on the receipts for our rental property. Ha, good to see that Capt G's filing system is as haphazard as my own. 🙂 By now matrimonial harmony has flown out the porthole. I decide a tried and trusted method is to reconcile the credit card statements.But wait! The Woolworths Qantas Credit Card has decided that we only need to be able to access the last six months. What planet are these people from?
A phone call to the help desk is answered somewhere in the depths of Asia. They are so helpful and are more than willing to lighten my load by reprinting the statements at $7 a month and will post it to my PO box in Manly. I'm scanning the fine print now looking for the proof that I said yes to these draconian Term and Conditions. Thankfully I'm disorganized but not that silly.
Eventually, after escalating me to the 'Difficult Customer' desk, (I know this is fact because the nice young man spoke impeccable English and sniggered when I said I realised I'd been handed off to the 'rude customer team'…) they agree to waive the fee and email me the statements. But of course it will take two business days…
This year's mess is largely sorted. I've started the process for next year. I've made new folders, labeled them sensibly, cc'd Capt G into all the emails, and backed up the hard drives. I have begun as I mean to go on!
I give myself three months…